Out of the Ordinary
Matt Bomer, Sarah Jessica Parker and more presented at amfAR's Inspiration gala
---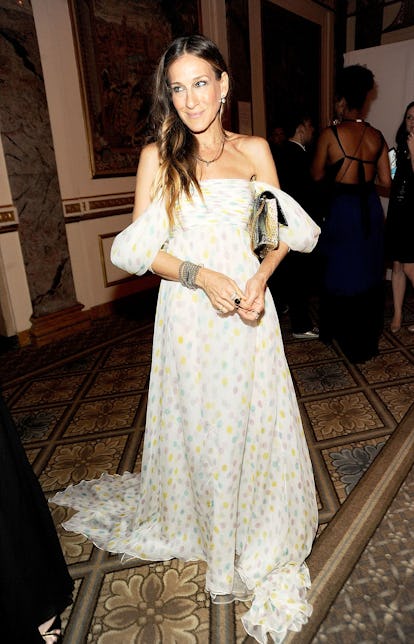 You don't go to an amfAR event expecting the same old shrimp cocktail and Chardonnay deal, even if it's being held at a typical New York social circuit stomping ground like the Plaza hotel, as the organization's annual Inspiration Gala, presented by MAC's Viva Glam, was on Tuesday evening. During a cocktail hour and change, the Oak Room was filled with men in ankle-baring tuxedo pants who mixed with the VIPs including Orange is the New Black star ** Laverne Cox and downtown nightlife fixture LadyFag, dressed like a Sicilian widow. The young Brant boys, Peter II and Harry, blazed a path towards the entrance as Peter offered:
"It's Harry's first amfAR," as though such things are a normal rite of passage for any young man.
"I'm wearing a star," pointed out Harry, motioning to his cheek. When told of the steamy Oak Room conditions he shrugged, "It's going to melt off. It will be chic as fuck."
No doubt. Cocktails segued to an exuberant pattern-themed menswear show in the hotel's Palm Court featuring 69 looks and many a bare-chested lad. Then it was upstairs for a packed dinner, and by that point, the champagne was kicking in. Though for once, the tables were turned in the restroom department.
"Dude, the line is so long," said one man to his friend.
"Just go in the ladies room," responded his companion (it was, indeed, blessedly wait-free).
Josh Duhamel served as the night's exuberant emcee and kicked things off with a little humor.
"It's kind of a fashion event, so I had to up my fashion game. I had limited role models growing up in North Dakota: Monopoly Man and Mr. Peanut. I had the outfit all picked out. But then someone wore it before me," he said, pausing for dramatic effect as an image of Rihanna in custom Adam Selman from the recent CFDA Awards popped up on screens across the ball room. "Bitch stole my look."
There were more serious things on guests' minds, too. Franca Sozzani presented the first of three awards of inspiration to the HRH Crown Princess Mette-Marit of Norway, a dear friend, noting "One thing I love about her is she is never afraid to find out the truth."
The teary-eyed royal dedicated the honor to, among others, sex workers in Nicaragua and the gay communities.
Sarah Jessica Parker fittingly spoke about the second notable, HBO President of Programming Michael Lombardo.
"I wrote this part myself: on a more personal note, I've known Michael for 15 years. He was the gentleman my attorney called to negotiate contracts. Despite the land mines that exist in such affairs, he was generous and fair and kind," said the actress, while a video highlighted the TV network's longstanding dedication to shows highlighting the battle surrounding AIDS and HIV.
"HBO began telling those stories 30 years ago and we continue today," said Lombardo. "And the impetus was simple: they were stories that had to be told and no one else was telling them."
As entrees segued to dessert, Alexander Gilkes did his damndest to raise funds from the restless crowd in a live auction whose lots included an Eric Fischl mixed media print ($14,000) and a polar expedition ($8,000—it had been a long winter).
Finally, Matt Bomer and Fergie took turns toasting the last honorees, Francisco Costa and Italo Zucchelli of Calvin Klein Collection.
"Stop the prompter, I'm gonna go off book," said Fergie. "When we talk about design, Francisco talks about the heart. The first thing he asks me about is my son. Not was I wearing Calvin Klein."
A moved Francisco responded, "I feel like I'm winning the Oscar here."
On that note, New Order took over the stage. Because really, why not?
Photos: Out of the Ordinary
Sarah Jessica Parker. Photo by Josephine Solimene.
Francisco Costa and Fergie. Photo by Josephine Solimene.
Harry and Peter Brant. Photo by Josephine Solimene.
Jamie Bochert. Photo by Josephine Solimene.
Italo Zucchelli and Matt Bomer. Photo by Josephine Solimene.
Laverne Cox. Photo by Josephine Solimene.
Joseph Altuzarra. Photo by Josephine Solimene.
Zachary Quinto. Photo by Josephine Solimene.
Karoline Kurkova, Princess Mette-Marit of Norway, and Kenneth Cole. Photo by Josephine Solimene.
New Order. Photo by Kevin Tachman.
Franca Sozzani. Photo by Josephine Solimene.
Sarah Jessica Parker and Michael Lombardo. Photo by Josephine Solimene.
Jeisa Chiminazzo and Elsa Hosk. Photo by Josephine Solimene.
Tyson Beckford. Photo by Josephine Solimene.
Francisco Costa, Fergie, and Josh Duhamel. Photo by Kevin Tachman.
Montana Cox. Photo by Josephine Solimene.
Marjorie Gubelmann. Photo by Josephine Solimene.