Amilna Estevao Loves Personal Beauty
The Angolan model shares her beauty secrets.
---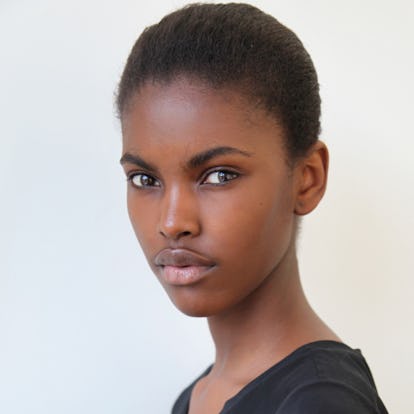 The 16-year-old natural beauty struts her stuff in the W's August 2015 issue. Estevano shares a page from her wholesome beauty notes, here.
My look in three words: Focused, simple, myself.
Five-minute routine: I don't really have any routines – I do whatever feels right in the moment.
Never leave the house without: My mobile phone and my bag with personal things.
Beauty from inside out: Always consider and believe in myself – it's a personal beauty.
Exercise regime: I don't have trainers, but I do workouts by myself. I take classes like Zumba, yoga, and boxing.
Cleanse or not: So far, none!
Skincare secret: I just like to keep my face clean, wash it as much as I can. Normally I go without any make up, and I have some kind of cream with me during winter so I don't feel too dry.
Hair remedy: Most of the time I like to do hair at home by myself, but every once in a while I do visit a salon.
In-tub must-read: Something with relaxing words.
Spa-cation at: I like to sometimes relax my body the most after fashion week, which is a very important period, because you are usually a little bit tired and you need extra rest before feeling normal again. I like to just stay home and enjoy the quiet.
Fragrance of choice: It depends on the situation, but always something that smells fresh.
Best advice from mom: If you want to do something, be focused, strong, believe in yourself, and keep doing. Never say never.
Best advice from the pros: I'm still more focused on doing my own job right now, but I'll be paying more attention in the future!
Beauty icons: Adriana Lima, Joan Smalls, Naomi Campbell, Rosie Huntington-Whiteley, Candice Swanepoel and Gisele Bundchen.