Ammonite Trailer: Kate Winslet and Saoirse Ronan Strike Up a Romance
The love story between a paleontologist and her apprentice feels very 'Portrait of a Lady on Fire.'
---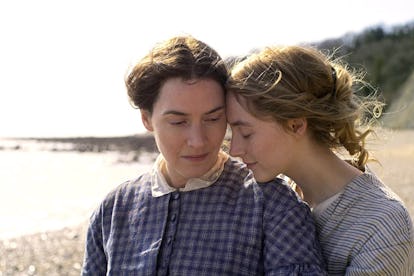 © See-Saw Films, courtesy of IMDb
Even with most productions stalled, Hollywood is staying true to its burgeoning love for lesbian period dramas. The trend arguably took root in the mainstream in 2015, with Cate Blanchett pining for Rooney Mara in Carol and continued in 2018 with Chloë Sevigny falling for Kristen Stewart in Lizzie and Keira Knightley falling for Eleanor Tomlinson in Colette. Since then, there's been the cottagecore love story Summerland, and of course Portrait of a Lady on Fire, the undeniable cinematic star of 2019. On Tuesday, Neon—the producer behind Parasite—released a trailer revealing that it's picking where the latter left off. Ammonite, too, centers on a woman tasked with rescuing another from her melancholy, only to strike up a romance as they brave the wind in bonnets on a cold, rocky beach. This time, though, the stars are familiar to American audiences: Saoirse Ronan and Kate Winslet.
"It was a sea lizard, six feet long. The days it took to dig it out, clean it—I was only 11 years old," Winslet begins, describing a "special" discovery of hers that ended up in the British Museum. She plays Mary Anning, a real-life paleontologist who became something of a celebrity amid 19th-century England's fossil craze. She's high-profile enough, anyway, for a stranger named Roderick (James McArdle) to approach her with a request. "My wife hasn't been at all well as of late. She suffers from melancholia," he says, gesturing at a morose Ronan. "I want her to walk he shore line with you. Learn with you." Mary isn't looking for an apprentice. But at the mention of a premium payment—and after sufficiently warning Roderick that "it's not easy work"—she concedes.
Cut to the ruffed south English coastline, where Mary is offering Charlotte a scuffed up pair of boots. She indeed looks melancholic as ever, and who can blame her? She doesn't like the water, and is stranded with a stranger on a frigid, windy beach. But after some fireside time with Mary, Charlotte begins to lighten up. Soon enough, she's grinning as the pair wrestle a muddy fossil out from the sand with their bare hands.
The look on Mary's face when she catches a glimpse of Charlotte getting dressed—and when Fiona Shaw remarks she's pleased they've struck up a friendship—is a dead giveaway for what happens next. They hold hands; they kiss; they start to undress. Charlotte makes the first move, which seems significant; there's clearly an age gap between the pair. "I don't want to go back to the life I had before you," she tells Mary, who responds immediately: "What about my life?"
Ammonite, which takes its name from an extinct sea creature often found fossilized, seems poised to be a breakout for the British director Francis Lee. It premieres at the Toronto International Film Festival on September 11 and hit theaters on November 13.
Related: Summerland Is a Cottagecore Period Drama Made for Life in Lockdown