Amy Phelan: Bring It On
Former Dallas Cowboys cheerleader Amy Phelan tackles the New York art world.
---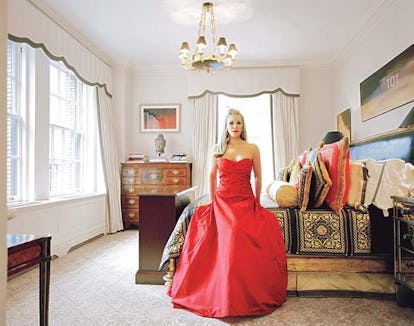 It's a crisp fall evening at Manhattan's Pier 40, and the cavernous space, by day an industrial parking garage, has been transformed into a palace of eco chic for the third annual Guggenheim International Gala. Under a ceiling festooned with recycled cardboard swirls, dealers Larry Gagosian, Barbara Gladstone and Tony Shafrazi mingle with such collectors as Peter Brandt and Stephanie Seymour, artist Richard Prince and—oddly enough—Owen Wilson. But even against such a star-studded background, one buxom, tan creature stands out. Her long blond hair spills down over her formfitting, feather-trimmed black dress and preternaturally perfect cleavage. Her face is precisely made up with highly arched brows and frosted pink lips. The look is completed by elbow-length black gloves, fingerless to better accommodate the Elizabeth
The library, with Thomas Ruff's nudes lu10, 1999
Taylor–worthy rings—one diamond, one emerald—on her French-manicured fingers. As she makes her way to her table, she's stopped at every turn, here by a man inviting her to a collectors' dinner, there by an elderly admirer who looks her over and says, teasing, "If you've got it, flaunt it." Given her bombshell appearance, the attention is not unexpected, but what is somewhat surprising is the fact that this woman, who looks more Legally Blonde than West Chelsea power player, is Amy Phelan, a newly appointed trustee of the Guggenheim board. And as dinner starts, there is only one thing on her mind: "I want to meet Owen Wilson!" she gushes in her Texas drawl. "Where is he? Tell him to come over here and have a drink with us!"
The 36-year-old Phelan has managed to crack the notoriously insular art world remarkably quickly, especially considering she started collecting seriously just six years ago, shortly after she moved to New York from her native Dallas to marry her husband, investment fund manager John Phelan. In April she became only the seventh woman on the 29-member Guggenheim board. (Another recent addition, Linda Macklowe, a longtime collector from a renowned New York real-estate family, fits the typical profile a bit better.) Regardless, Phelan is being considered to cochair the Guggenheim's 50th-anniversary celebrations in 2009, a job for which she is well prepared, given the fact that venerable collector and 11-year veteran of the Whitney board Melva Bucksbaum tapped her to head up the 2007 gala at the Whitney, where John sits on the board. "She was unbelievable. She left me in the dust," says Bucksbaum. "I learned a lot from Amy on that job. I followed her around like a puppy dog."
Not only has Phelan impressed the collector crowd; she's popular with artists too: Photographer Marilyn Minter counts her as a muse, and Phelan can often be found palling around with painter Delia Brown, with whom she has regular sleepovers. "We stay up and eat M&M's and drink white wine in bed," Brown says. Sculptor Jim Hodges is another Phelan favorite, and he's introduced her to downtown denizens like Fischerspooner's Casey Spooner, who is now a close friend as well.
The entrance hall of the Phelans' apartment, featuring Thomas Ruff's nudes ca04, 2002.
What's most appealing about Phelan, say her many friends, is her infectious enthusiasm and dedication—personality traits she had plenty of time to develop in the Nineties, when she spent three seasons as a Dallas Cowboys cheerleader. "It was a dream. I was just superlucky," she remembers, as she sits in the library of her Park Avenue apartment, opposite a Thomas Ruff nude that she describes as her "double dildo" photograph. "I had always wanted to be a cheerleader. When I was a little girl I had the cheerleader jacket, all the posters in my bedroom." It wasn't an easy dream to fulfill: Cheerleaders had to reaudition every year, were expected to practice five to six hours a night on top of school or a job, and were only paid $25 per home game—"$12.63 after taxes," she remembers—which was then donated to charity. Phelan is also quick to point out that, contrary to popular belief, cheerleaders "were not allowed to fraternize with the players. We lost a couple girls that way."
Though extremely proud of the time she spent on the Astroturf, Phelan avoids advertising her pom-pom prowess in New York for fear of facing a Northeast cold front. "I don't want to be judged," she says. It's just one of the adjustments she's had to make since her move. "Everything in my closet was a color," she says of her pre–Park Avenue days. "Now I have different shades of black." All kidding aside, the transition hasn't always been easy. "New York is the best of the best and the worst of the worst. People are judgmental," she says, adding that her Southern accent, in particular, often leads New Yorkers to make certain assumptions. "I use it to my advantage. I'd rather them think I am a little dull and slowly peel it back."
"People are taken aback," says Maria Bell, a Los Angeles collector and friend of Phelan's. "She is the quintessential blond cheerleader. But we always say, 'Wait until you get to know her.' She is a smart girl in the guise of a bombshell."
Phelan was born in Dallas, where her stay-at-home mom cared for Amy and her brother while her father (a former champion bull rider) embarked on a variety of businesses, ranging from construction to oil. She attended Southern Methodist University and graduated "on the five- or six-year track, if I'm honest," with a degree in marketing and finance. (Cheerleading, she admits, was a bit of a distraction from her studies: "It was during the glory years, when we were winning back-to-back Super Bowls.") After graduating, she worked in marketing at a medical mattress company for three years. When the company was sold, she went into management consulting at the Dallas-based firm Blythe-Nelson. In the meantime, she was briefly married to L.B. Moon, a former football player for the Miami Dolphins. The two had a daughter, Makenzie, but divorced in 1997. In 2000 she was set up on a blind date with John, also an SMU graduate, whose fraternity brother had married a cheerleading teammate of Amy's. They hit it off: In late 2000 Amy and her daughter moved to New York to be with John, who runs MSD Capital, the highly successful investment fund that manages Michael Dell's fortune. They married in 2002.
That same year, the newlyweds moved into a sprawling floor-through on a prime stretch of Park Avenue. "This was Goldie Hawn's apartment in The First Wives Club," says Phelan, offering a tour. Under her direction, the place has become a filmlike fantasy of an Upper East Side home: The dining room is a riot of greens, the living room is yellow, and the circular entrance hall is a vision in pale marble. Mounds of silk Versace pillows accent the couches in the library, and for dinner parties—like the raucous affair she threw for Hodges's 50th birthday last fall—she breaks out the Versace china. She says her decorator, the late Kevin McNamara, almost quit in protest over the tented ceiling she wanted in the library, but in the end she won and he stayed on.
Exile on Jackson Street, 2003, by Richard Patterson, based on Phelan's cheerleading trading card
The decor has caused some whispering from her more conservative neighbors, but Phelan enjoys stirring the pot: On a bookshelf in the library hangs a sign printed in large red script that reads please pay f—ing attention. thank you. In the kitchen is a case of wine called La Poussaie, which Phelan points out with a giggle. "A friend of mine bought a bottle for me last weekend and it was, like, a totally delicious wine. I'm going to serve it at my next Junior League lunch. You think I'm kidding, but I'm not," she says. "I'm a little naughty. A little naughty, but not too much."
The same might be said of the Phelans' contemporary art collection, which is displayed alongside the Picassos, Dubuffets and Chagalls that represent their initial direction. In the entrance hall is an R. Luke DuBois video piece displaying 50 years of Playboy centerfolds. Above the living room mantel, looming over the silver-framed snapshots of Makenzie and the family's miniature schnauzer, Lollipop, hangs a still from Matthew Barney's Cremaster of showgirls in little more than pasties. Just outside the door to Makenzie's room are two Helmut Newton nudes, and two porn stills by Jeff Burton hang in the master bedroom next to large, posed photographs of Amy and John. Over the bed is an Ed Ruscha text piece reading toy. "I think of them as having brave taste," says Amy Cappellazzo, international cohead of postwar and contemporary art at Christie's. "Their collection is a celebration of the sexual side of life with a sense of humor."
"John and I feel so strongly about what we like, and it has worked for us," says Phelan, who does not work with an art adviser.
Many of the blonds that feature in their largely figurative collection bear more than a passing resemblance to Phelan, and some actually are her. In the foyer is a Minter photograph of Phelan's mouth, with diamond necklaces spilling from between her glistening red lips. "I had literally been stopping people in the street looking for lips like that," recalls Minter, who says she has produced about 20 pieces from her one day of shooting with Phelan, including one that graces the cover of her monograph. "She brought real jewelry too. For the first time I had real diamonds! I just went crazy, I was so happy."
Minter met Phelan—and her lush lips—at the suggestion of the late Aspen gallerist Harley Baldwin. It was just one of many New York introductions made in Aspen, where the Phelans recently built a home. "We go every chance we can get, to amortize the cost of the house," says Phelan. The spare, contemporary mountain lodge houses the bulk of their collection, which features a roll call of big names including Andreas Gursky, Lisa Yuskavage, Cindy Sherman and Richard Prince. "They nailed it," says Bucksbaum, who has visited the Aspen abode. "A museum would love to have a show like the art that they have there."
John is on the board of the Art Museum, and it was Amy's efforts cochairing that institution's Art Crush in 2006 that caught the eye of Guggenheim board president Jennifer Blei Stockman and then Guggenheim head Lisa Dennison. "We saw the amount of work that goes into the event," says Stockman, who nominated Phelan for the Guggenheim board. "Amy was definitely a mover behind that." And now the Guggenheim is looking forward to having her tireless energies directed its way. "She's serious and a hard worker," says Dennison, who has since decamped to Sotheby's. "It's wonderful that her profile is growing. Hopefully the institution can help with that, and she can help raise the profile of the institution."
But despite her rising profile, Phelan—who spends about three nights a week on the charity circuit—isn't about to make herself over to fit the Park Avenue mold. She still considers her cheerleading buddies her best friends, peppers her speech with "y'all" and spends half of the aforementioned Guggenheim gala dinner debating the merits of Journey before and after the departure of lead singer Steve Perry. "A year or two ago plenty of the art-world people were going, 'Who is this character?'" admits PaceWildenstein's Marc Glimcher. "But she very rapidly went from being whatever that judgment was to just being her. She has not reinvented herself."
"Amy is totally unaffected," says Cappellazzo. "She loves art and she loves artists, and it comes from the right place."
And if there's anything funny about a busty former cheerleader scaling the heights of the notoriously too-cool art world, Phelan is certainly in on the joke. Spooner shares an anecdote from a recent party chez Phelan. "We were rocking out in the living room, and Amy said, 'Let's go to the kitchen and cut all our hair off!'" remembers Spooner, who was appearing in a play with the Wooster Group theater company at the time. "I said, 'I can't. I have to keep it for my role.'" Phelan's retort? "Me too!"
Courtesy of Richard Patterson and James Cohan Gallery, New York