Bungalow Goes British
Amy Sacco attempts to beat Londoners at their own game, with a members-only branch of Bungalow 8.
---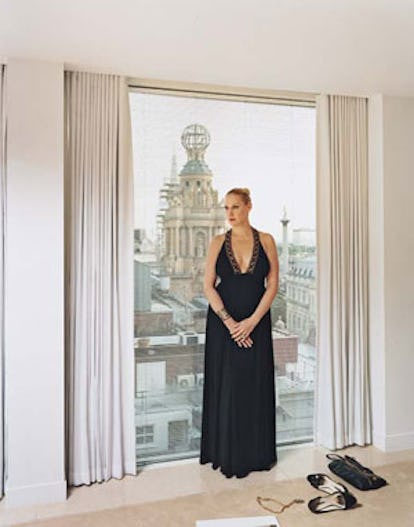 Amy Sacco, the woman who's often called the queen of New York nightlife, would prefer to stay mum about her new fiancé, the tall Italian doctor who proposed to her a few days ago, in Rome, on a bridge overlooking the Tiber River. Really, she says, this is a part of her life that she'd prefer to keep private. But—oh, well!—there's an item in today's Page Six about the surprise engagement, which occurred only six weeks after the couple met, so the secret is already out. And in any case, when Sacco gets excited about something, which happens often, she's not the type to hold back.
"I've found a real man. Yeah!" she says, beaming, in a suite at the St Martins Lane hotel in London, where she's preparing to open a branch of her club, Bungalow 8. A few details about her betrothed, Luigi de Carolis: He's a Rome-based surgeon, a kite surfer and a "very serious and strong" person, says Sacco, who met him in New York through a mutual friend. After the proposal, the two stayed in Rome for Valentino's 45th-anniversary celebration, and then de Carolis took Sacco to see the family palazzo. "I think his mother's a countess, but I don't know," says Sacco in her gravelly baritone. "I always said I'd marry the pizza guy, but I'm marrying the palazzo guy."
That's a typical quip from New Jersey–born Sacco, 39, a onetime bartender who, through a combination of party-girl charisma and street-smart ambition, has evolved into the jetset's favorite den mother. (Before she landed in Rome, she spent a week at her friend George Clooney's house in Como.) Sacco, six feet one on the rare occasions when she's not wearing stilettos, is the kind of blond glamazon who naturally dominates a room. And she has recently agreed to all sorts of new engagements, not all of them nuptial: There are several nightlife projects in Las Vegas, a condominium deal in lower Manhattan and consulting gigs with, among others, underwear mogul Nick Graham and Eos Airlines. There's also a fictional TV series in the works, based on Sacco's life and executive-produced by Sarah Jessica Parker.
Sacco's main priority for the moment, however, is the September opening of Bungalow 8 London. The original nightspot, which opened on West 27th Street in 2001, is still hanging on as one of Manhattan's main VIP clubhouses, even though its success has drawn a clutch of less exclusive clubs to the surrounding neighborhood, where Sacco had been a pioneer in 1997 with her first club, Lot 61. While Sacco's location in London is anything but cutting-edge—it's in the St Martins Lane hotel, a few blocks from Leicester Square—she picked it because of her new partnership with owner Morgans Hotel Group, which will handle the club's operations. Sacco calls the new Bungalow, which was designed by India Mahdavi, a "sophisticated European sister" of the original. The club will stay open during the day, unlike the New York location, offering grilled cheese sandwiches and other items from the original's menu.
London is already jammed with private clubs, from royal drinking den Boujis to ever posh Annabel's. But Sacco insists her customers have been pleading with her to open a London branch, because no existing club offers the mix of people—artists, actors, socialites—that is her specialty. She is currently honing her target member list to a diverse group of 1,000 and plans to keep the club strictly private. Members, who'll pay annual dues of $1,000 and up, will be allowed to bring two or three friends, but all other hopefuls, including hotel guests, will be turned away. So what if Prince William declines to join but shows up anyway? "Hmm, something to think about," says Sacco. "But that's kind of rude, even for a prince! It's time for people to commit."
If Bungalow 8 London succeeds, it will largely be due to Sacco's talent as a social wheel-greaser, which she credits to her upbringing in a boisterous family of 10. "You had to raise your voice and fight in line for the bathroom," she says. "And you had to understand that you're not the only person around." After graduating from Johnson & Wales University in Rhode Island, Sacco moved to New York and began working as a hostess at Bouley. She met and fell in love with Gilbert Le Coze, the chef-owner of Le Bernardin. In 1995 he died suddenly from a heart attack, and Sacco hibernated for a while before emerging to cobble together $1.2 million for the successful Lot 61.
Though plenty of titillating celebs-behaving-badly dramas have unfolded in the nooks between Bungalow 8's potted palms (many, such as Nicole Richie's glass-throwing incident, made the tabloids; many more didn't), one of Sacco's fortes is her instinct for knowing how to gently steer a celebrity away from that fifth mojito on a night when there are paparazzi outside the club. It doesn't hurt that, unlike certain 85-pound starlets, Sacco has no trouble holding her liquor. To really knock her over, she says, "it would take a fifth of vodka and an elephant tranquilizer. Size counts."
Some may wonder whether there's actually enough of Sacco to go around these days, as she hops eagerly onto the branding bandwagon. As part of her deal with Morgans, she's creative director at the company's Hard Rock Hotel & Casino property in Vegas, now undergoing a massive expansion (Sacco is responsible for up to four new venues there by 2010, including a poolside space called Bungalow 8 Beach Club). The aforementioned condo project is a new full-service downtown building called District, where Sacco is consulting on the design, the gym and the restaurant; for Eos, the new all-business-class airline, she's involved with everything from in-flight amenities to entertainment. "It seems like a lot, but it's all lifestyle stuff, and it's all so interconnected," she says. "Bungalow 8 will always be my private little jewel. The other things are more franchisable."
Sacco hopes that the Bungalow regulars long accustomed to seeing her every night on 27th Street—where she recently renewed the club's lease, despite rumors that she was planning to close—will understand why she can't now be in all places at once. "If they really love me, then they'd want me to have a life," she says. "Does André Balazs greet you in the lobby of the Mercer when you check in? No. But when you go to any one of his hotels, you know what to expect."
Though she counts an increasing number of A-listers in her inner circle (in addition to Clooney, there's Sean Penn and Sienna Miller), Sacco insists that, when it comes to dealing with celebrities, maintaining a professional distance is crucial. With a few exceptions, she says, "I consider celebrities to be clients, not friends. They're customers who need service. And that's what I do for a living—I provide service." Not that Sacco is posturing as a lowly waitress. "I just try to put myself in a position where I never ask [clients] for anything," she says. "People will go, 'You can use my plane whenever you want!' But I turn a lot of things down, because if I say yes, later they're going to ask me for something 10 times bigger."
As Sacco expands her empire as a lifestyle guru, one major perk will be a substantial, steady income—something that's notoriously elusive in the nightlife business. Art-world impresario Yvonne Force Villareal, one of Sacco's former coworkers at Bouley, says her friend is like any self-made person who's done a lot of hard work "for no immediate financial reward" and is ready to make it big. "You've built the foundation so you can start having fun with the architecture," Villareal says. Sacco is about to trade her small Chelsea studio for a penthouse in the District building. But as she starts living larger, Sacco says, there's some important advice of her mother's that has been echoing in her head.
"You know that thing of sewing a dime in your bra so you can always make a phone call?" she asks. She might require a passport and an American Express black card these days, but the basic idea is the same. "Sew that black card in your bra," Sacco says. "And make sure you can charge that first-class ticket home."