Amy Smilovic Loves Wearing Blazers, Is Over Selfies
The Tibi fashion designer shares a page from her style notes.
---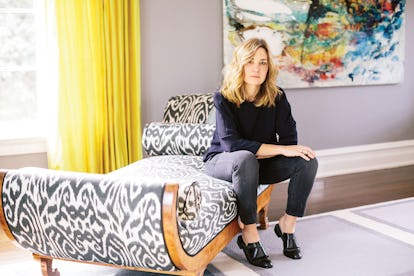 Fashion designer Amy Smilovic has been wearing her own creations since before she launched her women's wear label Tibi in 1997. Today, she mixes them with pieces from Celine, Saint Laurent, and treasures found on eBay for a modern, feminine look. Here, Smilovic shares her favorite places to shop—both in New York and around the world, her go-to accessories, and her style icons.
Define your style in three words: Clean, Feminine, Relaxed
Daily uniform: I have a core uniform that I wear at least twice a week—a navy silk sweatshirt and navy pin stripe blazer (Tibi), vintage 1990s Levis (eBay, $4), and a pair of trainers.
Greatest hits: A blazer, Céline fringed crepe top, Acne suede top, Tibi Beatles trousers, and a Proenza Schouler faux fur navy coat.
Preferred footwear: Any version of a penny loafer—right now I love the Tibi Denni slide or a pair from Saint Laurent.
Finishing touches: Delfina Delettrez stacked jeweled ring, Paige Novick diamond bars, Repossi ear cuff, Tibi Anita Ko diamond crescent, and a Gaydamak diamond hand cuff. I love jewelry that is fine but not at all precious. My newest bag is the striped bowler from Myriam Schaefer. I'll have this bag for the rest of my life— she's a genius designer and knows just what a woman wants in a bag. My fringed giant navy Tibi scarf travels with me everywhere, no matter the season.
Nighttime look: A pair of black leather and wool men's wear-style trousers, amber heels, and a perfect top/sweater (I tend to favor Stella McCartney, Acne, Céline and Chloé).
Best recent discovery: Podcasts: I listened to SERIAL in two days.
Favorite stores: In New York, I frequently pop by Kirna Zabete to browse their clothing and accessories. If you don't catch the pieces right away, you'll miss out. I also love Tendenza, a tiny jewelry shop in Soho, for their delicate necklaces and stackable diamond rings. Vosges Chocolate has unique truffles like ginger, wasabi, and black sesame—it's a great place to pick up a gift or satisfy a craving. For vintage pieces, C Madeleine's in Miami is my go-to—it's one of the very few places in the U.S. where you can still find these over-the-top extravagant pieces. I also do quite a bit of shopping on 1stdibs for clothes, art, and decor; this is where I've found so many of my unique pieces. Area and Canvas are two of my other frequent haunts for home décor.
Style pet peeve: I'm over selfies, anything too precious or overwrought
Style icons: Patti Smith, Steve McQueen, Lauren Hutton, Kim Basinger in 9 ½ Weeks.
Last purchases: A case of Kidrobot vintage Dunny's for my youngest son who collects them, silver MYKITA sunglasses, Maryam Nassir Zadeh ballet heels in turquoise suede, a sponge that had a smiley face on it and is surprisingly effective on my dishes, and a pair of Pinocchio Del Toro slippers for my 14-year-old son.
Lusting after: The Joan Didion Documentary. Or simply just time—there aren't enough hours in the day!
Favorite haunts: In New York City, The Waverly Inn for their Truffle Mac & Cheese, and Maison Premiere for brunch. In Paris, one of my favorite spot is L'as Du Fallafel. It's heaven, and worth traveling all the way to Paris for. My husband is Czech, so we've been going to Prague for years. Every time we visit I have to shop at Material. It is all local artisans designing crystal pieces—old craftsmanship interpreted in an ultra-modern way. The owner Tomas is so creative and wonderful—the first time I visited he had just created Miuccia Prada's runway jewelry. He's crazy talented and it's one of the only places in Bohemia to find authentic glass creations.
Winter survival tips: VACATIONS! Anywhere with warm weather—Nevis; St. Barths; my hometown of St. Simons, Georgia; Tulum… When in New york City—a day trip to Aire Baths, Bobbi Brown tinted moisturizer with SPF, Josie Maran argan oil, MagicClay Slipper treatment for my hands and feet at Jin Soon spa, a Tibi cashmere sweater, a cozy fireside dinner at The Place in the West Village, Isabel Marant snow boots, and a warm parka!
What's always in your bag: Lobello lip balm, my iPhone and iPad, Mophie power station, sketchbooks, Pantone markers, and candy.
Must-have for 2015: An Aga stove for all the cooking I plan to do!
New Year's Resolution: To become a great cook.
Photos: Amy Smilovic Loves Wearing Blazers, Is Over Selfies
Portrait of Amy Smilovic from ATL Magazine. Courtesy of the designer.
The designer's beauty essentials from Bobbi Brown and Jin Soon, and a set of Pantone markers. Courtesy of the designer.
Amy Smilovic's daily uniform. Courtesy of the designer.
Some of Smilovic's favorite jewelry pieces: A Delfina Delettrez ring, a vintage watch, a Repossi ear cuff, a Tibi Anita Ko earring, and a Gaydamak rose gold hand cuff. Courtesy of the designer.
Smilovic's Maryam Nassir Zadeh ballet heels. Courtesy of the designer.