An Alexander McQueen and Isabella Blow Film is in the Works
Fashion designer biopics seem to be released in competing pairs, so, of course, there's a second Alexander McQueen film in the works.
---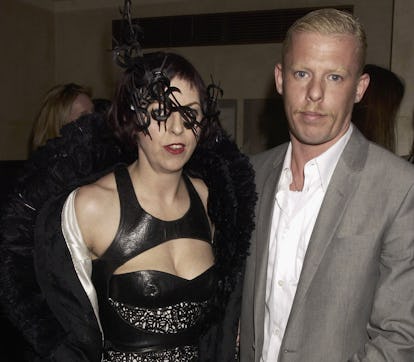 Getty Images
The legendary lives and friendship of Isabella Blow and Alexander McQueen is getting the Hollywood treatment. Maven Pictures, the indie production company co-founded by Trudie Styler, wife of Sting, is moving forward on an original script entitled "The Ripper" that will explore the pair's unique bond.
Blow, an English fashion editor with aristocratic roots and a noted loved of outré hats, is credited with discovering a young McQueen. Blow bought the designer's entire 1992 Central Saint Martins graduate collection, and also convinced the designer, known on his birth certificate as "Lee," to use his middle name, "Alexander," professionally.
Within years, McQueen would soon become a living legend, renowned for his innovative designs and theatrical shows. Blow would remain an influential figure on the British fashion scene, and is said to have helped McQueen broker a deal to sell his company to the Gucci Group (now known as Kering).
Though, a film documenting their relationship may prove difficult material. Blow committed suicide in 2007. At the time of her death, the notorious British tabloid press speculated that a rift had developed in McQueen and Blow's friendship. Though, McQueen would vehemently deny this at the time. Three years later McQueen would also commit suicide.
McQueen however dedicated a 2008 collection ot Blow's memory and inspiration, and was greatly affected by his friend's death.
"I learned a lot from her death," McQueen told W in 2008. "I learned a lot about myself. [I learned] that life is worth living. Because I'm just fighting against it, fighting against the establishment. She loved fashion, and I love fashion, and I was just in denial."
The night before that interview, McQueen said he was visited by Isabella Blow's ghost in a dream.
Screenwriter Gesha-Marie Bland has already plotted out the story on page, according to Variety. Bland doesn't have any previous credits to her name, but has penned several notable spec scripts and is also working on a mini-series based on another one of her scripts. Neither director nor stars have been attached to the film.
Interestingly, this isn't the only Alexander McQueen movie in the works. Andrew Haigh, best known for his film Weekend and HBO's series Looking, is also at work on a McQueen project. Playwrite Chris Urch wrote the script, and the aspects of the McQueen biographical book Blood Beneath The Skin will be incorporated. That film is expected to begin production by the end of the year, though casting has not yet been announced either.
Here's an interesting question though: Why does it seem that fashion designer biopics almost always seem to be released in dueling pairs?
2014 saw the release of two Yves Saint Laurent biopics (one officially sanctioned, and the other unauthorized). Both would find wide release and mixed reviews.
Two Coco Chanel films were released in 2009. Coco Chanel & Igor Stravinsky, detailing a rumored affair between the designer and the composer, had received support from the House of Chanel. Coco Before Chanel, starring Audrey Tautou, was released in the same season. Both films were preceded in 2008 by a Lifetime made-for-tv biopic starring Shirley Maclaine.
Though, a Gianni Versace film, starring Antonio Banderas, is also in pre-production. That doesn't have a competing projecting (yet, anyway), but a Donatella Versace biopic was produced by Lifetime in 2013.
It does seem fitting, though, considering fashion is all about trends.
Watch W's most popular videos here: