An Appreciation of Bella Hadid's 2016 Street Style Transformation
How the 20-year-old It model, muse, and nascent photographer became the next Kim Kardashian of street style while still doing her own thing.
---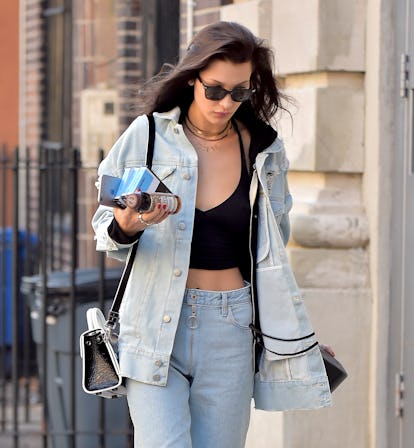 GC Images/Getty Images
Hours after model Bella Hadid made her debut on the Victoria's Secret runway in Paris, she hit the town to celebrate. (Her first order of business: a quick stop for hamburgers with Kendall Jenner, because even models need their protein.) As reported by paper of record The Daily Mail, she stepped onto those cobblestone streets in a mesh corset dress topped off with an icy blue, plush fur coat by Francesco Scognamiglio. It's a formula she's embraced throughout the fall: a sheer, curve-skimming layer with sumptuous outerwear draped around her, a high-wattage choker, hair tumbling over her shoulders.
Earlier in the week, there was a Dior ensemble: a matching, gun metal-grey silk crop top and pants topped with an ivory bouclé jacket. Most recently, it was a cropped turtleneck sweater with Givenchy track pants and an oversized, menswear-inspired leather coat.
"She loves the big outerwear," Hadid's stylist Elizabeth Sulcer said recently. "That's never really going to go out of style. Those silhouettes are powerful."
Sulcer, a stylist whose roster include models like Lily Donaldson and Taylor Hill, brands like Victoria's Secret, started working with Hadid back in March; they were introduced on a "secret project" earlier in the year and hit it off. Sulcer has since shepherded Hadid through a style transformation from standard-issue model-off-duty (lots of track suits and denim) to a couture dynamo, becoming a favorite of Victoria's Secret and Karl Lagerfeld alike and contending with both her elder sister Gigi and friend Kendall Jenner as fashion week's most celebrated and avidly-watched face.
Over the summer, Hadid's look tended towards old-school red carpet glamour: A daring, deep red custom design by Alexandre Vauthier kicked off her summer at Cannes, while a cowl-neck halter gown by Dior made its mark at the amfAR gala later in the festival. But as autumn has crept in, she's honed a more street-ready, downtown-cool look, albeit still with a clear vision to it. Strategic chill, if you will.
Hadid's current look is in the zeitgeist. Her penchant for the slinky base layer with a statement outer piece is mirrored back in Rihanna, long a champion of up-and-coming designers like Ella Boucht and Isabelle Hall, and Kim Kardashian, whose street look tends towards eclectic combinations of pieces like bike shorts, luxe coats, and her husband's designs.
Indeed, even beyond personal style, it's easy to draw parallels between Hadid and Kardashian. Like Kardashian, she's ascended to Givenchy designer Riccardo Tisci's inner circle, alongside model Mariacarla Boscono, his muse, who he plucked from obscurity nearly two decades ago, Naomi Campbell, and even Marina Abramovic.
The 20-year-old Angelena first came to prominence in 2014, when she signed with IMG and made her debut on Desigual's runway. Assignments to Tom Ford, Jeremy Scott, and Marc Jacobs quickly followed and Hadid, then studying photography at Parsons School of Design, dropped out to more seriously pursue modeling. Like Kardashian, she comes from something of a West Coast dynasty; her mother, Yolanda Foster, is a former model and current interior designer and, from 2012 until this past summer, a cast member of The Real Housewives of Beverly Hills.
Bella Hadid's Top 10 Street Style Looks of 2016
Bella Hadid in Chrome Hearts in Los Angeles, California, August 2016.

GC Images/Getty Images
Bella Hadid in New York, New York, September 2016.

GC Images/Getty Images
Bella Hadid at a Love Magazine party in London, England, September 2016.

GC Images/Getty Images
Bella Hadid in Milan, Italy, September 2016.

GC Images/Getty Images
Bella Hadid at the Victoria's Secret Fashion Show callbacks in New York, New York, October 2016.

Getty Images
Bella Hadid in New York, New York, November 2016.

GC Images
Bella Hadid in Moschino and House of Harlow 1960 x Revolve in the East Village, New York, New York, November 2016.

GC Images/Getty Images
Bella Hadid in Dior in Paris, France, November 2016.

GC Images/Getty Images
Bella Hadid in Givenchy at Charles De Gaulle in Paris, France, December 2016.

GC Images/Getty Images
Bella Hadid in Misbhv in Soho, New York, November 2016.

GC Images/Getty Images
Yet it's also somehow too easy to draw those parallels.
Where every Kardashian played a character in Keeping Up, Hadid seemed to be a reluctant reality television presence; she came late to Real Housewives, two seasons after her sister Gigi had been introduced to the show, and even then, she said recently she's never watched the entire series. That aloofness is what catapulted her into the public eye well before she became fashion week's most coveted model, but it's not what keeps her there. And while her look bears some similarities to Kardashian and other oft-photographed stars, "ultimately, we're really doing our own thing," Sulcer said, adding that she shies away from consulting other models' and It girls' looks when working with her own clients.
"It's important to know what's going on in fashion," Sulcer said. "It's really easy to group her with other celebrities, but…the way we put things together is a little bit different. It's unexpected."
Hadid and Sulcer mix the biggest names — Givenchy, Dior (for whom she's the face of beauty), Moschino — with va va voom insider favorites like Scognamiglio and Alexandre Vauthier, who designed Hadid's show-stopping custom Cannes gown and a liberal dose of streetwear thrown in, like Chrome Hearts by the Starks, who are close friends of the Hadids.
"That's where the magic comes in," Sulcer said.
As the Fall 2017 season and awards season both approach, Hadid is poised for yet another style transformation. "We obviously want to inspire," Sulcer said. "It's important to keep your eyes peeled for inspiration and different things that are new and fresh."
See W's most popular videos: