Do Barcelona Like a Local: Don't Expect to Find These Hot Spots in Travel Guides
Francesco Sourigues and David Vivirido, the duo behind cult favorite men's magazine Hercules Universal and Barcelona's coolest new concept pop-up shop The Issue Ten, on where to get the city's best seafood, shop for designer threads, and more.
---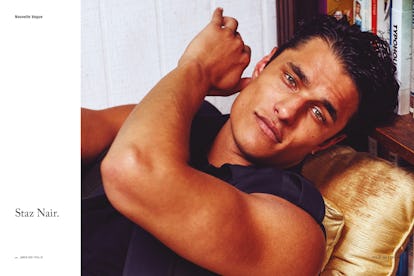 Francesco Sourigues and David Vivirido have built up quite since launching their men's fashion, lifestyle, and travel magazine, Hercules Universal, back in 2006 in Spain. This month, in the heart of Barcelona, they've brought the Hercules brand to life with a new, meticulously curated concept shop named The Issue Ten. The space houses archival issues of the magazine from the past 10 years (along with the newest issue of the magazine, which just came out), as well as limited edition home goods, exclusive works by independent artists, hard-to-find books, and more.
The Issue Ten isn't the only new hot spot in town, the city is booming with new additions, like the just-opened Soho House, so we asked the Barcelona insiders to share their favorite destinations around the city for a total local's experience. Don't expect to find these places on the usual travel guides. "Walk around, check out the street life of the different neighborhoods, take in the architecture, and enjoy the incredible food," said Vivirido. "Barcelona is definitely a city to go and get lost in."
Stay
Soho House, a new addition to the city, is definitely a must. With it´s charming rooms and an unbeatable rooftop pool with views to the port, it's a perfect combination for a fun stay, also walking distance from the beach. Casa Bonay takes a different approach to your standard hotel. It's inspired by the Barcelona residential buildings where the porter room becomes the reception and the patio turns into a fun bar, it's in a great location, inexpensive and fun. Hotel Brummell, located in Poble Sec, this young hotel is great for exploring a different part of the city in a new, hip neighborhood.
Eat
Pez Vela is a perfect spot to grab lunch right on the beach with sea views and excellent paella. Chiringuito Escribá, an absolute classic in Barcelona, offers renowned seafood and rice, perfect to spend a day at the beach. Surfhouse is a young and fun approach to beach life, healthy food and has the option to borrow a surfboard for a couple of hours. Flax and Kale is a new addition to the city, right next to the Macba Museum, that has vegetarian succulent options and a juice bar. Terraza Martinez, just a short ride by cab, is located on the top of Mont Juic overviewing the city port. It's excellent on a sunny afternoon. Check out the cactus park right next to it.
Boca Grande is located right next to the main shopping strip and set in a quite mews area, with three floors including a cocktail bar, rooftop and a bathroom that turns into a party room. Designed by Lazaro Rosa Violan, the space in itself is worth paying a visit. Jaime Beriestain, created by the acclaimed interior designer and entrepreneur, is a restaurant where you can find an eclectic crowd and excellent food. The space also includes a cocktail bar and concept shop. La Dama, a charming restaurant, is situated on the first floor of an iconic modernist building. It's worth visiting even just to check out the reception area, where there's a charming doorman wearing an old-fashioned uniform. Greenspot, a very recent addition to the vegetarian culinary scene in the city, has great options if you are a veggie lover. Check out the black pizza, a personal favorite.
Drink Go to Casa Bonay, even if you are not staying there, to check out the patio area that turns into a fun bar in the evenings. The tiled flooring and grand spaces makes it kind of unique. Servicio Continuo, created by the editor of interiors magazine, Apartamento, is this cute little bar that's great for evening drinks or even a date. Dry Martini, an absolute classic for cocktails in Barcelona, has its own secret restaurant in the cellar called Speakeasy.
Play
Caixa Forum, set in the hills right next to other key places to visit like the pavilion created by Mies Van der Rohe in 1929, is probably the strongest contemporary art museum in the city. Fundació Miró, a very inspiring institution in Barcelona, has some of his most impressive works. Hospital San Pau, one of BCN´s best well kept secrets, is a whole city in itself of modernist buildings created as a hospital campus in the beginning of the century. Laberinto de Horta, also a spot that not many know about, is just a cab ride away, get lost in the maze. Escape for a weekend to Dali´s white seaside town, Cadaques, which is about two hours away from Barcelona. It's a true hidden gem.
Shop
Santa Eulalia is a real institution when it comes to shopping in Barcelona. They stock everything from big brands like Givenchy, Saint Laurent, and Valentino to some smaller boutique brands. The Issue Ten, our very own new addition to the city, is a crossover between a gift shop and an art gallery, with a selection or artworks from international artists as well as books, magazines, perfumes, home goods and all kinds of exclusive objects and special collaborations. It is also the home for Hercules magazine, where we have archival magazines from the last 10 years for sale. The Outpost is an excellent option for luxury accessories from Kitsune, Thom Browne, Church´s, etc. Wer-Haus, also a very recent addition to the local scene, includes its own coffee shop and a selection of brands like Raf Simons, feels like our very own piece of Berlin in Barcelona. Azul Tierra, an impressive display of interiors and objects, is worth just taking a look for the space alone. Los Encants (flea Market) is an excellent spot for finding bargains, a flea market under a uber modern new building also in a very up and coming part of the city. Calle Seneca is a great little street to find charming furniture shops, from contemporary to vintage.
Images from the 10th issue of Hercules: