An Insider's Guide to the Best Discoveries From the Outsider Art Fair
The breakthrough artists from the 25th anniversary of the fair, from the woman who inspired Jackson Pollock to the charming portraitist of Prince.
---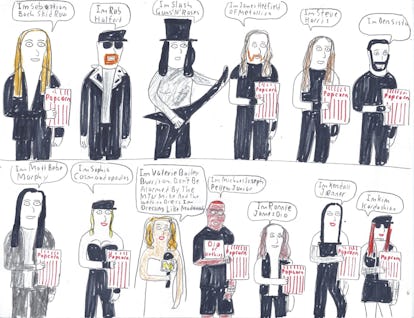 LAND Gallery
Over the weekend, the 25th edition of the Outsider Art Fair took over the Metropolitan Pavilion in Chelsea, marking the long road self-taught work has taken to art world acceptance. This year's edition even paralleled a concurrent exhibition at New York's Museum of Sex and drew guests like Maurizio Cattelan, whose golden toilet on display much further uptown could not be further from the decidedly un-slick art at the fair. On its anniversary, the fair stuck to what it does best: a mix of established outsiders (if that is not a paradox) like Henry Darger and a crop of new talents for whom success is arriving late in life or posthumously. From the woman who inspired Jackson Pollock to an Upper East Sider who first exhibited his work in his nineties, here are the artists who emerged from this year's fair.
Leopold Strobl at Galerie Gugging and Ricco/Maresca Once known as the Maria Gugging Psychiatric Clinic, the Gugging gallery in Austria has since become a residence for aspiring artists—some of whom also receive psychiatric treatment, and all of whom have recently have come into the light thanks to interest from the likes of designer Christopher Kane, who showed works from the clinic in an exhibition inside his London store. Missing from that show, though, was the Austrian artist Leopold Strobl, 57, who works primarily from photos of landscapes collected from newspaper clippings, while employing an eerie, green-lit color palette reminiscent of di Chirico.
Janet Sobel at James Barron Art Born in the Ukraine in 1894, Janet Sobel soon made her way to New York, where, decades later, after she raised five children, she took up painting at 43 and developed an abstract style that would soon captivate sharp collectors like Peggy Guggenheim, who gave Sobel a solo show in 1946. Encompassed of her trademark drip paintings, the exhibition also caught the eye of Jackson Pollock, who was reportedly open about Sobel's influence on his practice. The similarities were on full display at James Barron Art's booth at the fair, where 10 of Sobel's paintings drew constant crowds. However delayed, it was attention she deserved.
Michael J. Pellew Jr. at LAND Gallery Michael Pellew first became known for his cartoonish, celebrity-filled greeting cards, which have been sold at Opening Ceremony and even commissioned for tour thank-you's by Sufjan Stevens. But Pellew, a New Yorker who has autism, has also exhibited larger, wood-rendered versions of his work in gallery settings, too, thanks partly to LAND in Brooklyn, which exhibits and organizes programming for adult artists with developmental disabilities. Their booth was responsible for clogging the fair's thoroughfares more than a few times, not that visitors minded, as they stopped to gawk at likenesses of Prince, Lady Gaga, and Adele.
Mark Heming at MiddleJanes Talk about a late-period artist. Mark Heming was already in his nineties the first and only time he ever exhibited his work, but since his death in 1999, he has slowly but surely found an audience; Julie Andrews and the artist Eric Fischl are both fans. Outside their private collections, though, his paintings got their first full-scale display thanks to MiddleJanes, which is run by Heming's daughter Sarah, a former casting director who's now dedicated herself to her father's estate. Heming, a German Jew from the Upper East Side, painted portraits, and while he was struck by faces he'd see in places like the bread line during the Depression, he never reproduced them entirely faithfully; his paintings were instead amalgamations of people he'd see—and often stare too long at—around New York.
See Kendall Jenner, Performance Artist, Channels Icons Like Marina Abramovic and Yoko Ono: