Exclusive: Ana Khouri Launches Bridal Jewelry Collection
The jewelry designer models a few of the boldest, highest-wattage pieces from her new bridal collection at Barneys New York.
---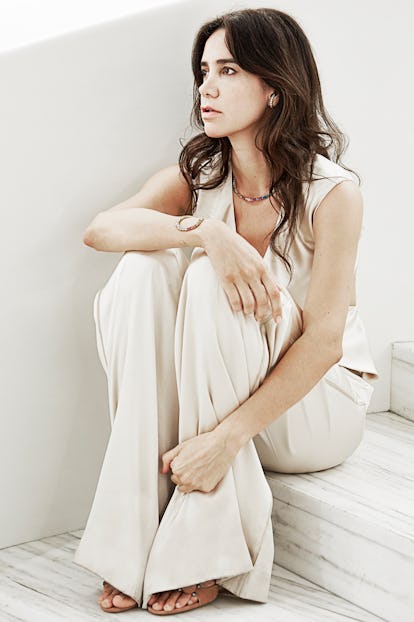 After nearly 15 years in business with her signature namesake line, the jeweler Ana Khouri is expanding in a surprising direction. This week, she's launching a bridal collection at Barneys New York.
The bridal market is hugely lucrative for jewelry lines, but it is oversaturated and über competitive for a young brand to break into. Khouri, though, saw an opportunity.
"My idea was to do some rings that are within a budget…I didn't see anything out there, and for what did exist, was far away from what we want to wear," she said in a recent interview referring to her line of engagement rings. So, she created a collection featuring minimal single stone bands of diamond or emerald stones within the range of $2,000-$4,000.
The girl who buys Ana Khouri's jewelry line can often be considered within the self-purchase market—an ever expanding group of women (or men) who purchase their own jewelry rather than wait for it to be gifted to them. Her clientele appreciate jewelry, but they are primarily informed by their budget.
Khouri is also aware that the concept of marriage is more openly and widely interpreted than ever before, with brides and grooms choosing to forgo antiquated notions of wedding style all the time. In her view, "no one marriage or relationship is perfect."
To that notion, she responded with engagement ring designs in which the band does not close but is left open. In other words, in their perfection they remain imperfect. Her smaller, yet beautiful stones accent the rings sometimes on the top of the band, off center, or without a diamond altogether.
"I didn't want it to have a closed band because now there are every different kind of marriages, sometimes a couple just wants to live together and not get married," Khouri said. In their way, these rings can be thought of more as symbols of commitment rather than a traditional wedding band.
Photos: Exclusive: Ana Khouri Launches Bridal Jewelry Collection
Produced by Biel Parklee. Digital Technician: Andrea Bednarek.