Anderson Cooper Continues the Vanderbilt Dynasty with a Baby Boy
The journalist announced his son, Wyatt, was born on April 27.
---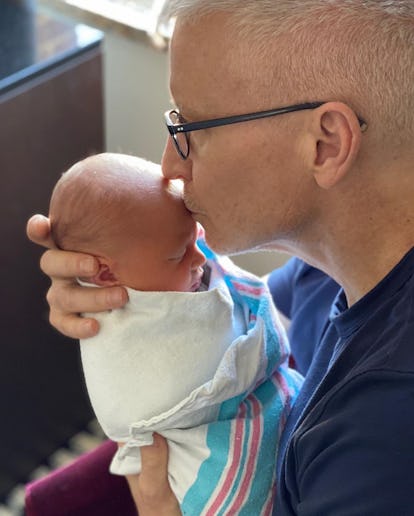 Photo courtesy of Anderson Cooper.
For those still reeling from the news that Gigi Hadid and Zayn Malik are expecting a child together, there's more news on the celebrity baby front: Anderson Cooper has welcomed a baby boy into the world.
While addressing the camera at the end of a CNN Town Hall, Cooper made the official announcement that he had become a father earlier this week.
"On Monday, I became a father. I've never actually said that before out loud, and it still kind of astonishes me. I am a dad," he said. "I have a son and I want you to meet him."
He then showed a photograph of his son, Wyatt Cooper, who is named after the journalist's late father. His middle name, Morgan, comes from a family name on his mother's side. Cooper says he knows his parents liked the name because he recently went through the belongings of his late mother, Gloria Vanderbilt, and discovered it on a list of baby names they had compiled just before he was born 52 years ago.
"As a gay kid, I never thought it would be possible to have a child, and I'm so grateful for all those who paved the way, and the doctors and nurses and everyone involved in my son's birth," he said during the broadcast. "Most of all, I am eternally grateful to a remarkable surrogate, who carried Wyatt, watched over him lovingly, tenderly, and gave birth to him. It's an extraordinary what she and all surrogates give to families who can't have children."
Congratulations poured in for Cooper on social media, from his good friend and fellow television host Andy Cohen, who recently had a child of his own via surrogate, Sharon Stone, Hoda Kotb, and Wanda Sykes.
"I do wish my mom, my dad, and my brother Carter were alive to meet Wyatt, but I like to believe that they can see him," he said in an Instagram post where he shared photos of his son.
Related: Sliding Into Gloria Vanderbilt's DMs: The 93-Year-Old Heiress Opens Up About Anderson Cooper, Selfies, and the Thrill of "Likes"