Andra Day on Her First Grammy Nominations
On the day she was nominated for her first Grammy awards, the singer talks about the future.
---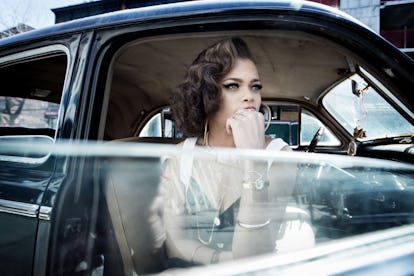 If the name Andra Day doesn't ring a bell, it's time to study up. The 30-year-old singer released her debut album, Cheers To The Fall, just three months ago, and was nominated for two Grammy awards Monday morning, Best R&B Album and Best R&B Performance for her single Rise Up. Not bad for a newbie. On the phone after a whirlwind trip to Art Basel Miami Beach, where she was the most ubiquitous performer of the week, Day could scarcely believe her good luck. She was just trying to take it one moment at a time.
Congratulations! How does it feel to be nominated for two Grammy Awards? It's pretty surreal to be nominated for any, let alone two. We just released the album at the end of August and for this to happen. I've just been thankful—just thanking everybody, thanking my dad. It's just crazy.
What did you do when you found out? When I found out, I just started to pray! [Laughs] I just was like, I need a moment. You know, it's one of those things that takes really a minute to absorb.
Have you given any thought to the ceremony itself?
Yeah, absolutely. The only real thought that I've given it is just having my mother and my father there. They've always supported me in music and as soon as I spoke to my dad, he was like, "I knew this would happen!" I was like, 'Haha, okay!' So I'm very excited to have my parents there. It'll be amazing.
You also just performed at a few major Art Basel events. Had you ever attended the fair before? I had never, so actually it was very exciting to be there. I like the whole scene of Miami, you know. I like Miami for the Art Deco and all of that and so to be there and to be performing during that and to see all the really cool scenery was awesome. We did the hotel opening at Faena and we did another event there as well. The experience was great, it was just a lot, like it was a bunch of eye candy—there was a lot to absorb and to take in. Like the [Damien Hirst sculpture] giant golden mammoth at the Faena was great.
Did you always know you wanted to be a singer? Yeah, I mean I think I always did. I knew I always wanted to be a performer, you know, in some way be in the performance arts. I love singing, I love music, I love dance—I danced for 20 years—and I did musical theater as well. I started when I was really young at this Methodist church we went to in Southeast San Diego and so I knew I could sing when I was like 10. I started attending a performance art school and I started singing in front of people at church and at the performance arts school I went to, I studied jazz vocal performance, classical music, and musical theater. We did shows like Once on This Island, Sweet Charity, all that stuff and so that's when I really knew: I want to be a performer, this is what I want to do.
You've been compared to so many iconic artists like Billie Holliday. Who are some performers who inspire you or who you grew up listening to? Oh, Billie Holliday is absolutely one of them. Ella Fitzgerald, you know, Sarah Vaughan, Diana Washington, all of these amazing powerhouse vocalists like Erykah Badu, Lauryn Hill, Patti LaBelle. Like all of those artists were singers that [made me think], 'Gosh I want to do this,' particularly with the classic jazz singers because their voices were so unique—they have such a style to them. I remember being very young studying musical theater and jazz vocal performance and first hearing Billie Holiday and Nina Simone and thinking to myself, okay, this is what I want to do, that's where I want to go. So, it's an honor honestly to be compared to these women that I've looked up to musically for so long.
You also have such distinct personal style. When did you adopt this look and who are some of your style icons? I grew up in Southeast San Diego and in Southern California there was this whole rockabilly subculture and then the artists and the pop culture of the mid-century that I studied when I was in school, the way they dress is amazing. Lucille Ball is actually one of my major style icons, just everything about the way she dressed and her charisma—she was amazing. I mean, I didn't really start dressing like it until I was like in my early 20s, it just seemed so far out of the box, you know what I mean? But then I got into my early 20s and I was like 'Alright, well, this is what I like and I don't really care,' and I've been that way ever since.
The Grammys are your next major moment, but where would you love to be in, say, five years? It's hard to say. You know, I take it one day at a time—one moment at a time, one day at a time. If in five years, my music or whatever art I'm engaged in is inspiring people and encouraging them, then I'm doing my job.
Photos: Andra Day on Her First Grammy Nominations
Andra Day. Photo by Myriam Santos.
Andra Day. Photo by Myriam Santos.
Day singing at L'Eden by Perrier-Jouet.
Photo by Getty Images
Andra Day performing at Art Basel. Photo by David X Prutting / BFA.com.
Andra Day. Photo by Myriam Santos.
Day singing at L'Eden by Perrier-Jouet.
Photo by Getty Images
Andra Day. Photo by David X Prutting / BFA.com.