André Leon Talley's Little Black Dress
Last Friday SCAD debuted an exhibition devoted to the Little Black Dress, that perennial fashion favorite.
---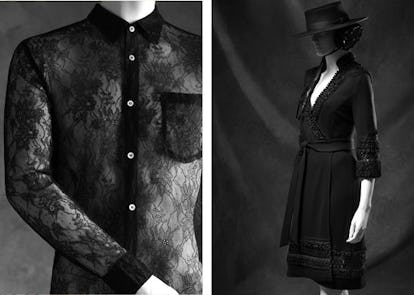 SCAD—the Savannah College of Art and Design—has a lot going for it: an increasingly international and diverse student population, a hands-on approach to teaching, and a vibrant campus in one of the most beautiful cities in America. It also has friends in high places: designers including Oscar de la Renta, Tom Ford, Vera Wang, and Diane von Furstenberg, among others, have been down for a visit to chat with students and to accept the André Leon Talley Lifetime Achievement Award, which the Vogue contributing editor instituted to help forge relationships between the school and the fashion industry.
Leon Talley also serves as curator for a gallery in the SCAD Museum of Art, and last Friday he debuted an exhibition devoted to the Little Black Dress, that perennial fashion favorite. Rather than using the category as a strict template, LBD was for Leon Talley a starting point from which to riff on the importance of black in a woman's wardrobe. In fact, some of the looks on display were not little, black, or even dresses: a great many of them fell well below the knee; one, created by a SCAD student, was midnight blue; another consisted of a red skirt paired with a black shirt; and the lace Comme des Garçons number that Marc Jacobs wore to the Met Gala was never intended for women at all.
But never mind. Leon Talley's show, which is expected to travel to New York and Paris, makes abundantly clear what stylish women have known since the days of Coco Chanel: black, once reserved for mourning, telegraphs power in the modern era. Whether you're wearing a simple Chanel shift like the one Anna Wintour donated to SCAD, or a painstakingly constructed, floor-sweeping creation by Ralph Rucci, a black dress is the ultimate contemporary must-have piece because it speaks of decisiveness and simplicity.
Here, a few of our favorites.
Photos: Adam Kuehl, courtesy of SCAD.