André Leon Talley Defends Ugg—and That Vogue Cover
The brand's new campaign star talks collecting (and throwing out) Uggs, along with why he stands by Anna Wintour.
---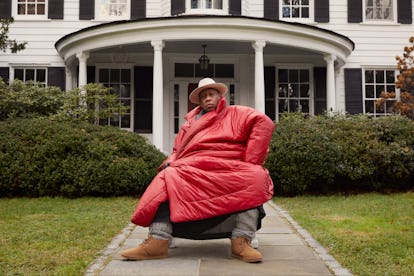 Courtesy of Ugg
It's difficult to overstate the enthusiasm with which certain corners of fashion received André Leon Talley's campaign for Ugg. "Everything is awful and nothing makes sense EXCEPT for André Leon Talley as the new face of UGG," the writer Evan Ross Katz tweeted when the ads dropped. "We stan emphatically." Not only do the images feature the unapologetically extravagant industry fixture in all of his glory; they also make Talley's relationship with the brand official, after years of his daring to wear it in the front row.
The headlines are a welcome change for Talley, who's begrudgingly put up with the drama surrounding his memoir—and specifically his relationship with Anna Wintour—for months. And yet, Talley has already waded into another controversy surrounding Vogue: its new cover of Kamala Harris, which Talley adores. On a phone call from his home in White Plains, New York, where he was wearing a "beautiful black mule" from Ugg, he defended it just as passionately as his go-to boots.
André Leon Talley's "Absolute Fave Rave" Ugg Moments
"RiRi's glamazon à la Dietrich: Her Ugg moment is without parallel, tone-on-tone nude chiffon over thigh-high. It's Ugg couture. Rihanna makes Ugg her own, to express originality and sensuality. High fashion at the peak of a shearling Ugg."

Courtesy of Instagram (@badgalriri)
"Teyana Taylor in the thigh-high, Russian-style crushed boot. It works with a cropped top and dramatic maxi coat."

Photo by Rachel Luna via Getty Images
"Zendaya scuffing along the broad avenues in her Ugg Scuffs—perfectly casual, yet cool. Dressed for comfort: stretch, t-shirt, and a Scuff."

Courtesy of Instagram (@zendaya)
"Lizzo—she is wow and beautiful. Her custom Ugg has great style with her Dapper Dan Gucci leggings and t-shirt."

Photo by Omar Vega via Getty Images
"Kylie Jenner in a disco slide. It is a pink cloud of a slide and she works it in her own environment of her ultimate brand beauty empire. Ugg can be a cloud or a pillow for your feet. It's the antidote for the towering inferno stiletto."

Courtesy of Instagram (@kyliejenner)
"Kendall Jenner seems to love a wardrobe of Ugg for her everyday life. The classic mini works with a serious all black lock for running around L.A., from pedicure to lunch to shopping to hairdressing."

Photo by Rachpoot/MEGA via Getty Images
"Pharrell Williams is a superhero in his great special Ugg boot, by Junya Watanabe. I want to be Pharrell Williams. He wears Chanel. He wears Ugg. He wears Vivienne Westwood. He is fashion. A true male fashion hero and a genius with his music."

Photo by Gilbert Carrasquillo/FilmMagic via Getty Images
When did you get your first pair of Uggs?
I can't remember, but I think it was about a decade ago. My first pair was the moccasins, and then I got the ankle boots, which is my go-to boot, especially in the warm weather. Now I have dozens, dozens. Sometimes they get worn out and I have to throw them out and get new ones, but that's fine, too. I find them so comfortable and so chic, and they work with my working wardrobe, especially during fashion week. I was seen in the front row with Uggs and that's how I got a relationship with them.
What were the reactions when you first started wearing them to shows?
Oh, no one even commented on them! There was no one that said, "Oh, you're wearing Uggs!" They just saw me in Uggs and photographed me. I think people just accepted them.
I want to get your opinion on a few other controversial fashion items. What do you think about Crocs?
Anything that's comfortable to any individual works. Crocs work for chefs, people who work in kitchens. Anything that makes an individual comfortable in doing his daily work is great. I am not going to put down a Croc at all. I don't own any Crocs. It's not that I wouldn't wear them, but I don't own any.
What about wearing leggings as pants?
That would not be good for my silhouette. I would not do that, no. But I approve of it for anyone else who thinks they're fabulous.
Sweats?
Fantastic.
And mullets, now that Rihanna is helping them have a comeback?
Incredible. Blessed. Anybody that wants to do anything that they think makes them look better, I say yes.
I know you're a big fan of Kamala Harris. Are there any designers, or specifically Black designers, you'd like to see her wear when she takes office?
I think she should wear whatever she wants, and I don't think it should be confined to just "Black designers," quote-unquote. I think it should be confined to the designers that make clothes which suit her demands for her wardrobe. I think she favors trouser suits, and I think that she would find fabulous trouser suits at the following designers: Ralph Lauren, Carolina Herrera, Michael Kors, Laquan Smith, Tom Ford, and Norma Kamali. They would be fabulous in her wardrobe. Whatever she wears, she is going to make fashion trends because she's going to create a new trend from that cover of Vogue. Young girls, who just left puberty—which is what, age 12, 13, 14?—are going to see that and say, "Oh, I want to dress like her. I want to be her when I grow up." And that's why that cover is so great. That's why that cover is so inspiring. To hell with all this cancel culture controversy. It's stupid, stupid. The cover is great.
I wasn't expecting that to be your reaction.
It's stupid. Kamala Harris is vice president and she is respected on their cover. By the way, the background was chosen because it represents the colors of her sorority, AKA, and there are lots of Black women in that sorority. And Tyler Mitchell photographed it. All this controversy blowup with the backlash has been ridiculous. People that don't have anything to do with their lives.
Many, like the critic Robin Givhan, thought it was disrespectful. You don't see it that way?
Not at all. Not at all.
Did you see the digital cover too?
Yes. I mean, listen, both are great. This is a great cover. This is an aspirational cover. This is a cover of 2021. We must look at elegance in another prism, a modern context. Elegance is not what it was in 1965 or 1995 or 2005. And Kamala Harris is expressing herself in authenticity. This is who she is. She is secure enough to pose for that. Apparently she styles her own photo shoots and these are her clothes, she selected. She offered to be photographed in what she loves—a trouser suit—in both, not in a ballgown or an evening gown. And in 2021, the vice president wears Converse sneakers. Who cares? It's fine.
I love Tyler Mitchell, but it is disappointing that he is only one of three Black photographers American Vogue has tapped to shoot covers.
There's another photographer named Dario Calmese, who photographed the Vanity Fair cover with Viola Davis in the summertime. So there's a variety out there.
Right, but not at Vogue. And that cover was also a first at Vanity Fair.
Well, I don't know about at Vogue. But I think the fact that [Mitchell] was chosen to photograph the first Black vice president of the country, which is historical, was done with great seriousness. Clearly Anna Wintour has taken that as a very serious assignment. I remember when I did the interview with Michelle Obama before her first cover, it was a very delicate operation, with over six months of planning. This thing has been planned. It was not something fly by night, that [Wintour] dismissed. I applaud her for it, and I'm going to always support her for putting that woman on the cover and making history. It's a celebratory moment, and people have to stretch their minds to create a celebratory moment. She is there standing, empowered by her being, and feeling comfortable in her Donald Deal black jacket, her white t-shirt, and her sneakers.
You mentioned working on the issue with Michelle Obama. Do you think it's rare that Kamala decided to style herself?
I think it's rare. I think that Michelle Obama did have notes and gave input. Tonne Goodman worked with her, I think, two times, three times and every time they were stunning, sensational pictures. I think that there is a language between the editor and the subject, which was really wonderful. And I think there was a language between this editor [Gabriella Karefa-Johnson] and Vogue and Tyler Mitchell, and I'm all behind it. I support it 100 percent.
Do you think it marks a step forward for Vogue?
It marks a step forward into the new world order of 2021. We cannot address elegance as what it once was. As someone said on the internet, "If [Wintour] can't find a way to photograph people other than in couture," but she has found a way. She has found a way because of the integrity of vice-president Harris and her own uniform, her own professional uniform. She was seen many times on the campaign trail wearing this uniform, and this is symbolic of who she is: accessible, approachable, and a human being. She's not kowtowing to conceits of elegance or imposed elegance of the Vogue editorial shoots, where they come with racks of clothes, suggested clothes. It's just, you know, matter of fact: This is who I am and I am who I am, and I'm wearing Converse. And like it or not, it's me. So I see it. I can't get into Kamala Harris's brain, nor Anna Wintour's brain. But that's how I see it. People on the internet calling for [Wintour] to resign is just stupid.
Will you be watching the inauguration?
Oh yes. I'm going to be here by myself on that morning, glued to the television in my library. I'm going to have hot chocolate and sit there and watch it all day long and be happy. I attended the first inaugural with Diane von Furstenberg. We were invited by Nancy Pelosi to very important seats in the Capitol, and we will never forget that day. We will always have the memory of seeing Barack inaugurated as the first Black president of this country. And that is a bond and a memory that Diane von Furstenberg and I share every time we speak. She said, remember where we were standing, where those people were crawling like ants. We were sitting there for the inauguration—we were, indeed.
That must have made it even more jarring to see what happened at the Capitol.
I watched it all day, from 1:00 to 7:30 PM. I just sat there. I couldn't believe what was happening.
Of course Melania [Trump] took five days to acknowledge it, too.
No commento. No commento. C-O-M-M-E-N-T-O. [Laughs.] Tone deaf. Tone deaf! There she was, doing a photo book on rugs…
At a certain point you can't make it up.
You can't make this up. Tone deaf! Marie Antoinette complex. There they are, storming the Capitol, and she's doing a photo shoot of a rug or something.
Hopefully, it'll be a lot calmer with Jill Biden in the White House.
It will be marvelous with Jill Biden—Dr. Jill Biden. It will be a wonderful moment, a moment of decency, when they enter the White House. We hope we will get back to decency and to the business and being of America, for all American citizens. Including those hateful, hateful people. I would love to be there. And I would love to meet vice president-elect Kamala Harris. But I'm not going anywhere until I get a vaccine.
Related: André Leon Talley on Blackness, Religion, and the Importance of Divas