Andrea Mary Marshall Loves Taking Chances, Hates Regrets
The tenacious, New York artist shares a page from her style notes.
---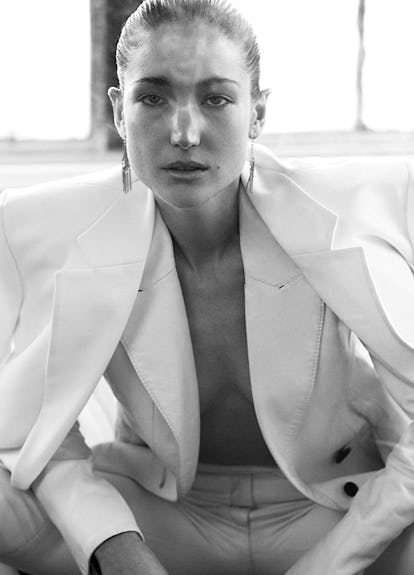 Using her body as a canvas, the artist Andrea Mary Marshall is a master of disguise. For Grey Area's recent guerilla-style takeover of Bergdorf Goodman, she transformed herself into a geisha (a character from her 'Sacred/Iconic' show), haunting the store's second floor and using her fan to splatter the walls with pastel paint. ("I was terrified of getting paint on the all the beautiful clothes," admits Marshall, who staged the performance in the dead of night.) Despite her noteworthy theatrics, it is perhaps her slinky downtown look that is the most intriguing. Here, the young artist breaks down her edgy aesthetic.
Define your style in three words: Classic, sensual, devoted.
Daily Uniform: Very simple! My black Balenciaga motorcycle jacket with a black t-shirt or tank, and either black leather leggings with my Stuart Weitzman black suede thigh-high Highland boots or old Levi jeans with my Saint Laurent Chelsea boots, and always my black Ray Ban aviators, and my favorite, vintage Chanel bag.
Greatest Hits: Some favorites have been my vintage, electric blue Giorgio Di Sant'Angelo wrap dress, RRL fringed lace-up suede trousers, my Saint Laurent Tuxedo Jumpsuit that I wore to my 'Toxic Women' opening, my go-to BLK DNM fitted blazer, and again my Balenciaga motorcycle jacket.
Preferred footwear: Saint Laurent Chelsea boots or Valentino "Rockstud" heels and sandals always seem right.
Finishing touches: A good manicure and a good edit.
Nighttime Look: I love a long, cool woman in a black dress. Right now I prefer long, fabulous maxi dresses—very '70s, very Halston—with a plunging neckline and high slit on the side. I am also a fan of black, silk Kimonos. And, of course, the highest high heel possible for evenings out.
Recent discoveries: Gnosis raw dark chocolate bars—so good and so healthy. I love Inez and Vinoodh's 1996 fragrance for Byredo Parfums. And, I am currently addicted to the new Dual Moisture Emulsion from Ling Skincare and her Energy Lift facials are amazing.
Favorite stores: Integral Yoga Natural Foods and Natural Apothecary. I'm obsessed with Ling Skin Care in Union Square. I like ABC Carpet and Home for interesting and unique jewelry finds and Kimono House on Thompson St. I love Resurrection Vintage in Nolita and Saint Laurent on Greene St.
Style pet peeve: Copycats.
Style icons: I have always admired Lee Radziwell, Anita Pallenberg, Robert Mapplethorpe, and James Dean.
Last purchase: A ticket to Istanbul for my best friend's wedding.
Lusting After: I loved the dresses from Givenchy's Spring 2014 runway, and yesterday I walked into the Saint Laurent boutique and wanted everything! I am lusting after leather dresses from The Row, a pair of Maison Martin Margiela gold armbands, and Tamara Mellon's fringed leather wrap skirt. Even though spring is in the air, I am already obsessed with the boots from Nicolas Ghesquiere's first Louis Vuitton collection. For art, I would love a knot sculpture from artist Ellen Jong and a self-portrait watercolor from painter Melissa Carroll.
Favorite haunts: The Museum of Modern Art and the Metropolitan Museum of Art—museums are churches for me. I am a health nut so you can usually find me at Juice Press or Souen on 13th Street. For a night on the town, my girlfriends and I love La Esquina on Kenmare Street for Mexican and then we love to go dancing at Paul's Baby Grand, after-after parties at The Cobra Den.
Photos: Andrea Mary Marshall Loves Taking Chances, Hates Regrets
Andrea Mary Marshall. Photograph by Dan Martensen.
Self Portrait as Venus De Milo, 2013. Courtesy of artist.