Andrée the Giant
For the second time in 24 years, grande dame Andrée Putman redesigns Morgans hotel.
---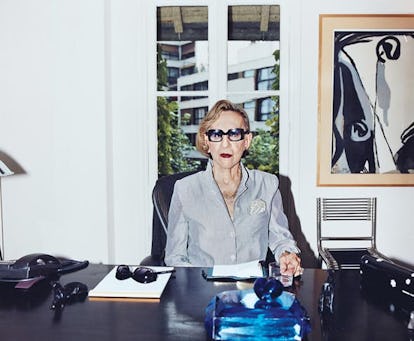 In 1981, when Steve Rubell and Ian Schrager got the idea to turn a flophouse in New York's Murray Hill into a luxury hotel, the world was a much different place. Upscale hotels were stiff, old-fashioned affairs. The city had long ago learned to let its hair down—thanks in part to Rubell and Schrager, the men behind Studio 54—but the hospitality industry hadn't yet caught on. Having recently served time for tax evasion as nightclub owners, the two were ready to look outside their professional comfort zone and create a different kind of hangout.
The same was true for the Paris-based designer they hired for what would soon become Morgans hotel. At the time, Andrée Putman had designed boutiques for Yves Saint Laurent and Thierry Mugler but had never taken on a project of such scale. Her sleek vision for Morgans would turn renting a bed for the night into a cutting-edge experience. Within weeks of the hotel's launch in 1984, celebrities were flocking to the tiny, streamlined, gray-toned rooms. Twenty-four years later, with the boutique-hotel genre she helped to establish now in need of its own refreshing, Putman has teamed up with Morgans one more time for a top-to-bottom renovation.
A guest room at Morgans hotel.
"Andrée was really the first one to invent that minimalist style," says Fabien Baron, a designer much influenced by Putman's elegant and simplified aesthetic.
Putman first made her name in France in the Seventies for reproducing the modernist furniture of Jean-Michel Frank and Eileen Gray. With fashion veteran Didier Grumbach she helped create Créateurs et Industriels, a predecessor of chic multi-brand clothing shops like Charivari and Colette. She also launched her own dignified but whimsical furniture and fixtures. Even in the Eighties it was unusual to wear so many hats, but as Putman says, "I'm interested in many things—I don't see myself as a specialist."
Putman is now 83, and though she is no longer running at top speed, her studio has a staff of 24 that includes her daughter Olivia. Based in a sunny Paris town house, it produces furniture, jewelry (with Christofle), sunglasses and fragrances. The firm has designed numerous other hotels, including Paris's Pershing Hall. This year she was also appointed the head of the new Design Committee of Paris, which will advise Mayor Bertrand Delanoë on "things in the city that we can try to make more beautiful," Putman explains.
As Putman has cemented her place in the firmament, so has Morgans Hotel Group, which is now a publicly traded company. Morgans could have asked anyone to revamp its flagship, and Putman certainly didn't need the work, "but Morgans has always been in my heart," she says. "They have the courage to take risks, and I haven't changed the essential elements." Indeed, though the guest rooms are now lighter, with titanium-colored walls and paler furniture, the Robert Mapplethorpe photos commissioned in the Eighties are still there and the bathrooms maintain the black and white checkerboard tile pattern that is a Putman signature.
Putman in her Paris office.
All the same, several of Putman's additions are unmistakably 21st-century. One is an overhead LED display made by Trafik, a French graphic and installation design team. Spanning the entire ceiling in the lobby, it projects moving patterns and colors like an enormous screen saver.
A techie-gizmo installation may seem like an unlikely crown jewel from such an august designer, but, in Putman's mind, "timeless"—a word often applied to her work—doesn't mean boring. "I can't imagine doing a modest little lobby that doesn't make an impression," she says.