Romanian Model Andreea Diaconu's Hair Secret? Beard Products
The Romanian model shares her beauty secrets, liking cutting sugar every other month and no plucking ever.
---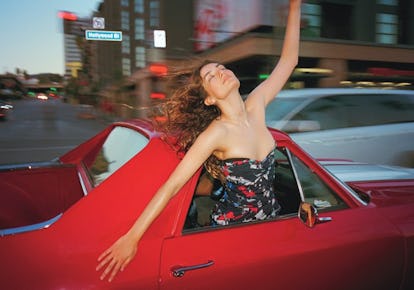 "Spring Breakers" Photographs by Glen Luchford, Styled by Jane How. W Magazine, March 2017
Gracing the pages of W's March issue, Romanian beauty, Andreea Diaconu, is known for her playful Instagram account (@AndreeaDiddy) and classic, beachy style. From sea salt sprays to hair oils and lip tints, the 25-year-old shares her go-to products for her "fresh outta the ocean" look. From trimming her own hair to massages in Chinatown, the Agent Provocateur model is known for her casual and minimal beauty, but isn't afraid to splurge on a luxurious visit at the Aman. Here, Dianconu shares her hair, health, and skincare products that she can't live without.
Your look in three words: Fresh outta ocean.
Five-minute routine: Salt hairspray, moisturizer, and 10 jumping jacks.
Never leave the house without: Sunscreen and lip tint that I use as blush if I'm having an off day.
10 Models Reveal the Beauty Products They Can't Live Without During Fashion Week
Exercise regime: Andrea Mitchell at Pilates/Modelfit once a month, surf whenever there are waves and I bike everywhere in the city.
Cleanse or not: Never! Maybe cut sugar every other month for a few days.
Beauty essentials: Jason Sunscreen; any oil that can be applied for hair and face.
Skincare secret: Tracie Martin and Rahua.
Hair remedy: I give myself trims every few months. I also use beard products for my hair (they smell better).
In-tub must-read: Henry Miller, Jorge Luis Borges, Susan Sontag, Mircea Eliade, Romanian poetry or Russian plays.
Spa-cation at: Any Aman Hotel or the Grand Hotel in Stockholm, because it feels like heaven. Or my acupuncturist Paul in the city, and most Chinatown/6th Avenue 45 minute massages for 15 bucks.
Fragrance of choice: Donna Karan Cashmere Mist… Duh.
Best advice from the pros: No eyebrow plucking.
Beauty icons: Nico, Debbie Harry, and Carolyn Murphy.
Related: The Beauty Secrets of Supermodels
12 Spring Fragrances to Own Now, According to W Editors