Andrew Garfield, Method Actor, Describes Himself as a Gay Man While Starring in Angels in America
That's not really how it works.
---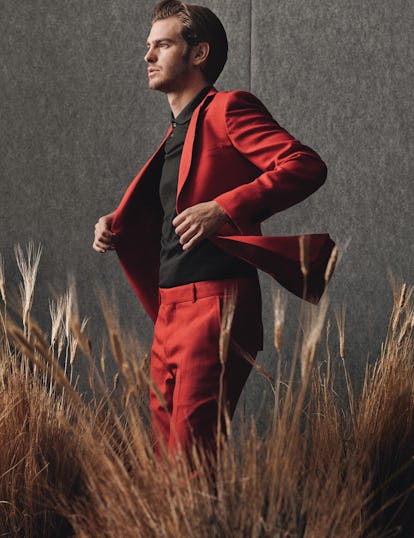 Photographs by Craig McDean. Styled by Edward Enninful. Hair by Orlando Pita for Orlando Pita Play; makeup by Peter Philips for Dior. Manicures by Michelle Saunders for Essie at Forward Artists. Set design by Piers Hanmer.
As the star of a new production of Tony Kushner's Pulitzer Prize-winning play Angels in America, actor Andrew Garfield, erstwhile Spider-Man and lover of Disneyland and pot brownies, plays Prior Walter, a gay man diagnosed with AIDS in mid-1980s New York City. The revival, which premiered two months ago on the 25th anniversary of its 1992 opening in San Francisco, has garnered largely flattering attention for its starry cast and contemporary resonance.
But on Monday, Garfield became the subject of slightly less congratulatory attention for telling a panel discussion audience he is living as a gay man right now—"just without the physical act." Which, you know, isn't really how it works.
The new production of Angels in America, which runs nearly eight hours, opened in early May with Garfield and Nathan Lane fronting the cast. The play, which takes place over several months at the end of 1985, examines the AIDS epidemic in the United States and its intersection with the Reagan-era political landscape. (Trump mentor Roy Cohn, as embodied by Lane, plays a large part.)
When asked about the challenges of preparing for his role and the kind of research involved, Garfield responded, "As far as I know, I am not a gay man," according to the Gay Times, who attended the panel. "Maybe I'll have an awakening later in my life, which I'm sure will be wonderful and I'll get to explore that part of the garden, but right now I'm secluded to my area, which is wonderful as well. I adore it, but a big concern was what right do I have to play this wonderful gay role?"
It's a valid concern, given the dearth of roles representing openly LGBTQ individuals on screen and, to a slightly lesser extent, on major stage productions, and Garfield goes on to explain that the playwright Kushner asked him to take the part. "I had to trust it was the right thing," he said.
The play had been in production for around a year, and Garfield explained that some of his most significant preparation came outside rehearsals—spending Sunday evenings watching RuPaul's Drag Race with his friends. (He earns a bit of cred for having watched all nine seasons of the series.)
"This is my life outside of this play. I am a gay man right now just without the physical act—that's all," he said. To be clear, a person can certainly identify as gay without participating in sexual relationships, but that's not really Garfield's point. Rather, his remarks reveal a sort of tone-deafness about trying on a different identity, as one commenter noted, as a "straight tourist." Another remarked, "speaking of, I am rich without the physical act." If he was concerned about his right to play a gay man on stage, the answer isn't exactly to become a gay man.
Garfield has earned comparisons to James Franco for his comments—Franco, memorably, conducted an interview with himself last year, playing "straight James" and "gay James." By all accounts, Garfield's portrayal of Prior Walter is sensitive and nuanced and even a little campy in a good way. But method-acting your sexuality is not advised.
Andrew Garfield's idea of heaven is Disneyland and pot brownies: