She's a (Fabulous) He
Given fashion's current gender-bending obsession, a cross-dressing collection suddenly makes sense.
---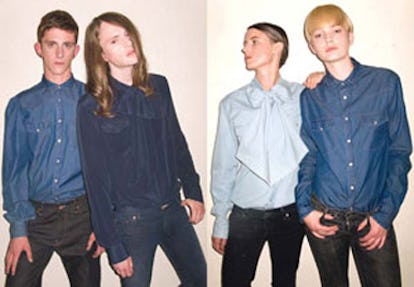 There's no doubt that transsexual and transgender fashion plates are having a moment. At Givency, Riccardo Tisci's transitioning fit model and campaign star Lea T. is causing quite a stir. Meanwhile, Australian male model Andrej Pejic, a slender Kate Moss look-alike, walked for John Galliano, Raf Simons, and Jean Paul Gaultier at the last round of men's fashion shows.
And then of course there's Luis Venegas. The editor in chief of Candy—a Spanish publication positioned as "the first fashion magazine ever completely dedicated to celebrating transvestism, transsexuality, cross-dressing, and androgyny"—has collaborated with Acne Studios on a capsule collection of three high-camp unisex shirts. Fittingly, Venegas found inspiration in that masterpiece of melodrama Dynasty . "It's my favorite TV series ever," he says. "I grew up in the Eighties watching Dynasty and dreaming of the wonderful luxury wardrobes that Alexis and Krystle used to wear. And their razor-sharp dialogue made them role models for a whole generation of trannies."
For the three blousy tops, Venegas paired silk crepe and classic Western denim shells—the latter stonewashed or bleached—with flamboyant, frilly, and utterly unnecessary trim. The shirt with the dramatic silk bow at the neck is called Alexis; the one with puffy sleeves is Krystle; and the one with ruffles at the neck and wrists is Sammy Jo, in honor of Krystle's gold-digging niece. No word yet on whether the line will eventually expand with a Dominique Deveraux or a Fallon Carrington Colby.
Courtesy of Acne Studios