Andy Cohen Recommends Following John Mayer's Snapchat
The "Watch What Happens: Live" host and author of a new tell-all, Superficial, shares his culture diet.
---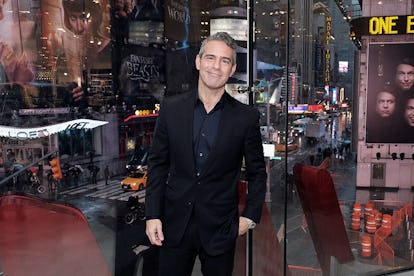 D Dipasupil/Getty Images for Extra
"In essence, I'm nervous that a tribe of Real Housewives, celebrity publicists, and failed dates are going to show up at my apartment building with torches," said Andy Cohen when asked what he's expecting upon the release of his new, gleefully name-dropping book, Superficial. But Cohen is no stranger to the publishing game: He also happens to be a New York Times best-selling author, and overseer of a new book imprint under Henry Holt and Co. that he's hoping will bring back the tell-all. Having dished everything from his tales of hanging at Cher's house to offending Taylor Swift, he also shared his culture diet, here.
First thing you read in the morning: Twitter.
Books on your bedside table right now: Lily and the Octopus by Steven Rowley, Christodora by Tim Murphy and my latest, Superficial: More Adventures from the Andy Cohen Diaries.
The TV shows keeping you up at night: "Watch What Happens: Live" literally keeps me up every night because it's live at 11, but when I get home I watch old DVR'd episodes of [Johnny] Carson or Merv Griffin, or old movies. Plus, I love "Pitch."
Last movie you saw in theaters: Moonlight.
Last thing you saw at the theater: Falsettos.
Last piece of art you bought, or ogled: I was looking for a yellow [Jeff] Koons balloon dog for behind my bar at home. I found one!
Last museum exhibition that you loved: The Isaac Mizrahi retrospective at the Jewish Museum.
Favorite podcast: "Bitch Sesh: A Real Housewives Breakdown."
Last song you had on repeat: "Cold Rain and Snow" by the Grateful Dead.
Last concert you saw live: It was either Beyoncé or Dead & Company.
How you get your news: Online: Huffington Post, CNN.com, and Twitter.
Thoughts on the election: Hell has frozen over.
Favorite social media accounts to follow: Billy Eichner on Twitter, Amy Sedaris on Instagram, and John Mayer on Snapchat.
Dream guest on What "What Happens Live": Michelle Obama.
Last thing you do before you go to bed: Kiss my dog.