Andy Warhol's First Studio, Which He Rented for $150, Just Sold for $10 Million
The old firehouse in the Upper East Side, which was Andy Warhol's first studio, just sold for a little under $10 million.
---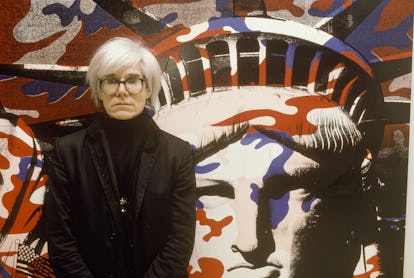 Gamma-Rapho via Getty Images
Back in 1962, a then up-and-coming artist by the name of Andy Warhol had a problem. He had spent the past three years working and living out of an Upper East Side townhouse he shared with his mother, her collection of Siamese cats, and an ever increasing inventory of his own artwork. Though not quite the world famous artist he would become yet, Warhol clearly needed more space. A friend tipped him off to an abandoned firehouse known as Hook and Ladder 13 just a few blocks away from his townhouse, and Warhol soon struck a deal with the city of New York.
He rented a 5,000-square-foot space on the second floor for just $150-a-month. Of course, there was a reason why no one else wanted the space. It was a mess, had no running water, or heat. Still, it was better than trying to keep working out his place with his mom, and it was his first real studio space.
Now, more than a half-century ladder, the once rundown firehouse is a hot real estate commodity. It just sold for $9.98 million, just shy of the $10 million asking price it carried when it went on the market in April.
According to The Real Deal New York, the seller is billionaire art dealer Guy Wildenstein. The buyer is real estate professional Steve Bogden. He's set up Warhol Hook and Ladder 13 LLC. to control the property, which perhaps signals he'll include the Warhol angle in his redevelopment of the property. It was marketed for possible uses including, "boutique condominiums, mixed-use rental, luxury townhouse, or community facility/medical use." Though, no word on what exactly the new owner plans to do with it.
Warhol only occupied the building until early 1963 according to ArtNet News, but it proved to be a pivotal time in his career. He created the "Disaster" paintings series in the building, formalized his idea that he could hire others to create his artwork, and, while still occupying the space, had what is considered his breakout New York solo show in late '62.
Of course, the firehouse isn't quite as famous as his subsequent three studios, which were all known as "The Factory," and were famous for hosting parties and being used as the location for various film shoots. The building that held the first Factory on 47th street has since been demolished, and now is the site of a parking ramp. The second, near Union Square, is now an apartment building. The final factory, also in the Union Square-area, is now an office building anchored by a PetCo.
Although, Hook and Ladder 13 has a far lower profile in Warhol lure, it was where he first really found his footing.
It should be pointed out that $150 in 1962 dollars now amounts to approximately $1,191 in modern dollars. Still, that amount might get an aspiring office a shared apartment in Bushwick, not an entire building in Manhattan. Even one without running water. Which means any aspiring Warhol-successors won't have the real estate advantage Andy did, at least not in New York City.
In any event, Andy Warhol nostalgia, which has never truly dies down, may get an even bigger kick in the coming years if the upcoming Jared Let-starring biopic proves to be a hit.