Andy Warhol to Be Played by Straight Actor, Again
Jared Leto is just the latest straight man to play the queer icon.
---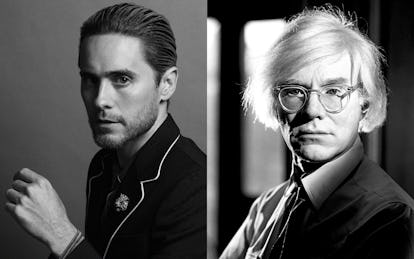 Left: Inez and Vinoodh for W Magazine, 2016. Right: Getty Images. Collage by W magazine.
High cheek-boned eccentric Jared Leto announced on Instagram over the weekend that he'll be playing fellow high cheek-boned eccentric Andy Warhol in an upcoming project. No other details were immediately available, but several people connected it to a 2016 item in the showbiz trade publications announcing that Leto would co-produce a Warhol project with director Michael De Luca and writer Terence Winter.
While Warhol has appeared as a character in numerous biopics and other pop culture send-ups, it's sort of puzzling that one of the most influential artists of the 20th century hasn't received a major biopic before. Especially considering the fact that Warhol's legacy can still be easily misunderstood today.
To some, Warhol is just the quirky guy who made colorful little portraits of Boomer celebrity icons, assumed to be some sort of eccentric but ultimately asexual eunuch. (Seriously, the myth that Warhol was basically a sexless being became so widespread, art historians and biographers have had to actually put in work to dispel the narrative.) He's seen as the perfect first piece for the nouveau riche's inoffensive, apolitical art collection.
To others, Warhol was an arbiter of queer culture whose own work's celebration of pop culture and capitalism was intrinsically linked to his critical views on such matters.
So, while we haven't reached a cultural consensus that queer male characters should always be played be queer male actors (even gay directors will still cast straight men in queer roles: see Call Me By Your Name), it is somewhat troubling that this queer character is played by straight men again and again and again.
Leto, who previously won an Oscar for portraying a trans woman in Dallas Buyers Club, will just be the latest.
Guy Pearce, a straight man who first came to fame by playing a drag queen in Priscilla Queen of the Desert, played Warhol in the Edie Sedgwick biopic Factory Girl. Straight British actor Jared Harris played Warhol in the Valerie Solanas-centered indie flick I Shot Andy Warhol. Notoriously eccentric but notoriously not gay Crispin Glover appeared as the artist in The Doors. Cary Elwes snagged the role in the flop Billionaire Boys Club. Bill Hader, who has played gay characters numerous times before, played a comedic take on Warhol in Men In Black III. Evan Peters briefly played Warhol in one American Horror Story or another. David Bowie, whose queer legacy is complicated, played Warhol in Basquiat. Taken together, the pattern of castings contribute to this idea that Warhol was queer as in the quaint "a peculiar little fellow" sense and not queer as in the "had sex with men and had no use for heteronormativity" sense.
The only major exception is HBO's short-lived series Vinyl. Openly queer Hedwig and the Angry Inch creator John Cameron Mitchell played Warhol in a recurring role. The good news is that the series was co-created by Winter, who is attached to write the Leto project (well, at least, as recently as 2016 he was).
The fact that Warhol once again will be played by a straight actor who built his cultural cachet by playing queer characters on stage is frustrating. It's not so much that any one straight actor got the part, but that it continues to happen.
Though, any decent Warhol biopic should provide for numerous trans women characters (Candy Darling, Jackie Curtis and Holly Woodlawn were major Warhol superstars). Here"s hoping that the producers of this film don't pull a Dallas Buyers Club and at least cast actual trans actresses for those roles.
Related: A Rare Look at Andy Warhol's Surprisingly Racy Drawings