Andy Yeatman, the Netflix Exec Who Said "We Don't Believe" The Ranch Star Danny Masterson's Sexual Assault Accusers, Has Been Fired
Yeatman follows Masterson, who was recently written out of The Ranch, out the door at Netflix.
---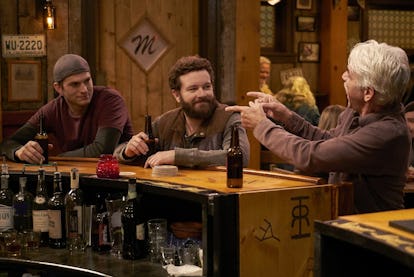 Courtesy Netflix
Andy Yeatman, the (now former) director of global kids' content at Netflix, has been pushed out the door after Danny Masterson, the former The Ranch and That '70s Show star who has been accused of sexual assault by at least four women and who Yeatman bizarrely defended at a children's soccer match earlier this month.
Last month, a report by the Huffington Post illuminated the charges against Masterson, a longtime Scientologist, including accusations of rape by three women who are also members of the church. The four women who have come forward allege he assaulted them in the early 2000s; the Los Angeles Police Department embarked on an investigation late last year, though charges had been filed against Masterson as early as 2004. (Masterson has continued to deny the allegations: "From day one, I have denied the outrageous allegations against me," he said in a statement to Vulture. And, in spite of what one law enforcement official told the Huffington Post was "overwhelming" evidence, charges had still not been filed against Masterson as of the time of publication last month—and Netflix had, at that point, taken no action against Masterson. (By contrast, when Kevin Spacey was accused by multiple young men of sexual misconduct, he was swiftly removed from House of Cards.)
This brings us to the soccer match earlier this month, during which Yeatman managed to dismiss the stories of Masterson's accusers—to the face of one of those accusers. Yeatman, who coaches a children's soccer team, was approached by a woman, the wife of the coach of the opposing team, who asked him, first, if he worked for Netflix, and when he said yes, then asked why Netflix had not addressed the allegations against Masterson and the pending investigation. According to a separate report by the Huffington Post, Yeatman told the woman that, while Netflix does take seriously such accusations, "We don't believe them"—to which she responded, "I'm one of them."
"The conversation ended quickly," Huffington Post's Yashar Ali wrote, because there's probably no coming back from that one. Netflix later released a statement confirming Yeatman had made the remarks reported by the Huffington Post and writing, "Mr. Yeatman's comments were careless, uninformed and do not represent the views of the company. Further, he would have no insights into decision making on The Ranch. We are aware of the allegations against Danny Masterson and we are following the current investigation, and will respond if developments occur." The network also added, dismissively, that the woman "did not identify herself or explain her connection to Danny Masterson"—though one might argue she should not have to, and the onus is on Yeatman not to discredit her story regardless of his audience. (Additionally, victims of sexual assault are frequently afforded anonymity in the press and in court cases.)
It's been just more than a week since that soccer match exchange was first reported, and now, Yeatman has reportedly been fired from Netflix. "Mr. Yeatman is no longer employed at Netflix," the streaming service confirmed to the Hollywood Reporter in a statement, though Yeatman himself declined to comment. Masterson's character was written off The Ranch just a day after Yeatman's comments were first reported, though he will still appear in episodes that had been filmed prior to Dec. 5.
"Law enforcement investigated these claims more than 15 years ago and determined them to be without merit. I have never been charged with a crime, let alone convicted of one. In this country, you are presumed innocent until proven guilty," Masterson said, in part, in a statement to Variety, which broke the news he had been written out of the show. "However, in the current climate, it seems as if you are presumed guilty the moment you are accused. I understand and look forward to clearing my name once and for all."
"I Will Not Be Silent": Hollywood's biggest names pledge to speak out