Angel Olsen Doesn't Want to Be Your Forlorn Indie Rock Crush Anymore
With her new record, "My Woman," Olsen is reinventing her image.
---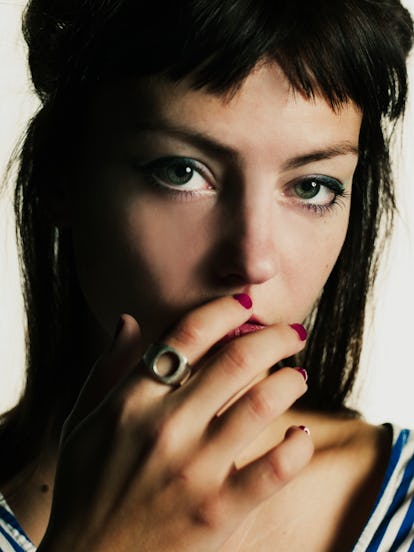 Photo by Bon Duke. Produced by Biel Parklee.
Until fairly recently, any mention of the 29-year old singer Angel Olsen likely called to mind a folksy, auburn-haired girl who knew her way around an acoustic guitar. It's an image she completely upended this summer as suddenly as the surprise release of her self-directed music video "Intern," featuring Olsen singing along to synths in a tinsel-haired silver wig — about as radical a departure as one could expect from her 2014 breakthrough album "Burn Your Fire for No Witness," which was the last time she'd put out new music.
The transformation drew a frenzy of Tweets and headlines. Something was up: Olsen was clearly pivoting away from being folk rock's forlorn crush, an image which, with her confessional lyrics and choppy bangs, has won her an ardent cult following.
"Intern," the first track on her new album out September 2, was as good a way as any to shout her intention to take her image-making into her own hands: "It was like, I'm gonna do something that you don't have a word for yet, or that you're not gonna say is folk or country," Olsen recalled of her "tactic" — just one of several business-minded words she used over a watermelon salad at a Greenpoint, Brooklyn café earlier this summer. If there's anything Olsen, who exudes both confidence and introspection, takes seriously, it's her image and her control over it – which is what even motivated her to try directing. "I'd rather make a character and have everyone misinterpret it than be disappointed or frustrated by what another person has projected upon me," she said.
Angel Olsen Doesn't Want to Be Your Forlorn Indie Rock Crush Anymore
Bon Duke. Produced by Biel Parklee.
Bon Duke. Produced by Biel Parklee.
Bon Duke. Produced by Biel Parklee.
Bon Duke. Produced by Biel Parklee.
"My Woman" is essentially divided into two identities: first the synth-pop singer, starting with "Intern," and then her more typical folk artist fare, with two songs that meander for nearly eight minutes. She doesn't seem to have made up her mind about which Angel Olsen she wants to be, but the point is that she's no longer being pigeonholed.
And she's starting to have fun. "Burn Your Fire" might have been met with overwhelming critical acclaim when it came out in 2014, but for Olsen, the hype was perhaps too much. She spent 120 days out of the next year touring, leaving her drained when she finally showed up on the doorstep of her new home in Asheville, North Carolina, wondering "if this was really how I wanted to live," she recalled.
But Olsen is not without a sense of humor about herself, and she's aware you might not expect it because of her somber, self-serious lyrics. Lately, she's taken to reading them out loud for comedic effect. "I think it's really funny to start singing a song that's like, 'Everything is tragic, it always falls apart,' right after you were just having a great time with your friends," she said. Not that she's discontinuing that approach; she knows she has a gift for sad songs. "But I do feel like it would be cool to challenge myself to write just as transparently about happiness, or things that are lighter," she said.
Her producer, Justin Raisen, who's better known for working with the likes of Sky Ferreira and Charli XCX, was there to help. But Olsen made sure she was right there during all the mixing and producing: "I was like, 'Justin, just so you know, you're not gonna write any songs for me, and you're not writing any songs on this album. It's not going to be like that with me,'" she said. Together, they made pop songs that remained true to Olsen's roots, recording the album almost entirely live and on tape. Synths might seem off-brand, but piano was her first instrument, and one that's stuck with her through her twenties.
As for the album's title, Olsen again wavered: "I don't really know what it means," she told me at first, perhaps reflecting the growing pains that come with a reinvention as an artist. "I didn't really think about the consequences of accidentally being feminist." She deflected when I asked whether she considers herself as such, insisting she's simply a woman. "And just because I'm a woman doesn't mean that every work I make is a feminist statement," she added.
Though she claimed she could have gotten the same message across with the title "My Man," the sentiment behind "My Woman" certainly sounds like a feminist one: "I'm the one who owns this, I'm the one who does this. No one else has this. This is me; this is mine," she said of the album's significance to herself and, hopefully, her audience.
If they don't get it, though, that's fine with her now, too. "I like the songs that I wrote. I like them even though they're eight minutes long, and I'm gonna play 'em," she said, finishing her watermelon. "I'm gonna record them and I'm gonna put them on my record, even if it's not immediately accessible to anyone. Because I just like them."
Watch W's most popular videos here: