Angela Ahrendts' Apple Keynote Trench Coat Set Twitter on Fire
The internet can't stop talking about the pink lace trench coat sported by Angela Ahrendts.
---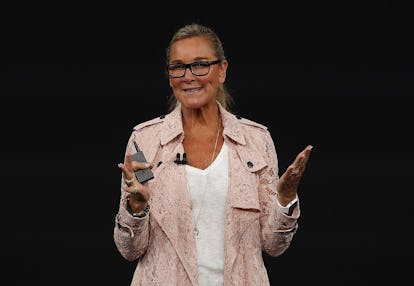 Justin Sullivan
Silicon Valley is not known for its fashion sense. The popular ideal there is comfortable uniform dressing in the form of turtlenecks or hoodies. So one doesn't expect the Apple keynote address to be a place to find standout fashion, and, yet, the internet can't stop talking about the pink lace trench coat sported by Angela Ahrendts, Apple's Senior Vice President of Retail.
Of course, part of the excitement over Ahrendts' appearance (and wardrobe choice) may be because it was the first time she was featured at an Apple keynote since taking on her job in 2014. Ahrendts is the highest ranking woman at the company, and one of only a small handful of women on Apple's leadership roster at all. Which is to say, Apple's keynote is not a place where one often sees women on stage at all.
Yet, Ahrendts' coat, paired with a white tee and black pants, managed to look as California-appropriate casual and comfortable as any of Mark Zuckerberg's dark hoodies while also looking unapologetically stylish and individual as well. Who says a tech exec can't put a little personality in their wardrobe?
As Racked points out, Twitter was certainly lit about it:
It shouldn't be a surprise that Ahrendts knows a thing or two about a stylish trench coat. Before coming to Apple, she was chief executive of Burberry, where she once said, "Everyone in the world should have a trench coat, and there should be a trench coat for everyone in the world." In addition to her work at the British company, most of her pre-Apple career was in the fashion world. That resumé also includes successful runs at Liz Claiborne, Donna Karan and Henri Bendel.
The coat, as if there's any question, was in fact Burberry.
Ahrendts wasn't just there to sport a coat. She was there to talk business, and as such gave a preview of the latest store designs we can expect from Apple, promised a redesign of some of Apple's most iconic stores (including New York's 5th avenue location), and also announced that the company will now refer to those stores as "town halls," which means you'll be lining up outside the Apple town hall, not the Apple store, when those new iPhones drop on September 22nd.
In any event, we hope to see more of Ahrendts and other women on stage at Silicon Valley events in the future. Judging from what the men wear, we wouldn't mind a bit more fashion either, but one step at a time.
Related:How to Wear a Trench Coat Like a Parisian
See Whats Trending in W Video: