Angela Bassett Is Finally Getting Her Own TV Show, Thanks to Ryan Murphy
Angela Bassett is finally getting her own starring role on television, while Ryan Murphy continues to expand his TV empire.
---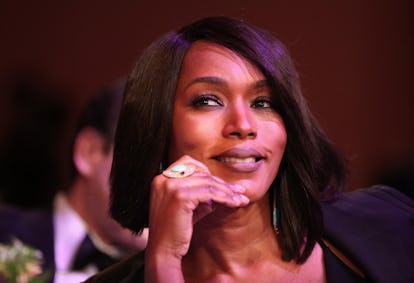 Rich Polk
Like so many actresses, Angela Bassett has turned to television in recent years to redefine her career. Yet, she's mostly stuck to supporting and ensemble roles. While she's hit them all out of the park and collected two Emmy nominations for her efforts, lets be honest, Angela Bassett of all people deserves her own starring role.
Finally, Ryan Murphy is here to give her one. According to Deadline, Fox has made a straight-to-series order for 911, a series created by Murphy and his frequent collaborator (and current Gwyneth Paltrow beau) Brad Falchuk. There's not a lot of information right now other than that Bassett will headline the series and it will revolve around 911 operators. Deadline says it will be "in the vein of ER."
Fox has enough confidence in the concept to order 13 episodes without even a pilot. More details will likely emerge when the series is officially announced on Monday at Fox's upfront presentations.
Bassett launched her career on television with a role on soap opera Search For Tomorrow and made several guest starring roles on television early in her career, but she didn't take a steady role on primetime tv until 2008 when she joined the cast of ER.
In more recent years she's been a constant presences on Murphy's American Horror Story franchise, debuting in season three as voodoo queen Marie Laveau and popping up in every season since. Across the pond, she also recently had a supporting role in British World War II miniseries Close to the Enemy and has also leant her voice talents to a recurring role on Netflix's BoJack Horseman.
Yet, top billing status had evaded the Oscar-nominated actress until now.
The other news is here is that its yet another new kingdom in Murphy's TV empire. His trio of anthology series, American Horror Story, American Crime Story and Feud, are major parts of FX's programing. Despite the uncertain fate of Scream Queens, 911 will continue Murphy's presence on Fox as well. Murphy also has the '80s-set series Pose in development at FX.
Both 911 and Pose would signal a return to non-anthology series television for Murphy, a format he hasn't quite been able to get right since the end of Glee.
Related: Julia Roberts and 17 Other Oscar-Winning Actresses With TV Projects in the Works
See What's Trending in W Video: