Angela Merkel's Technicolor Dream Tunic
In case you missed them, here are the top style stories of the week.
---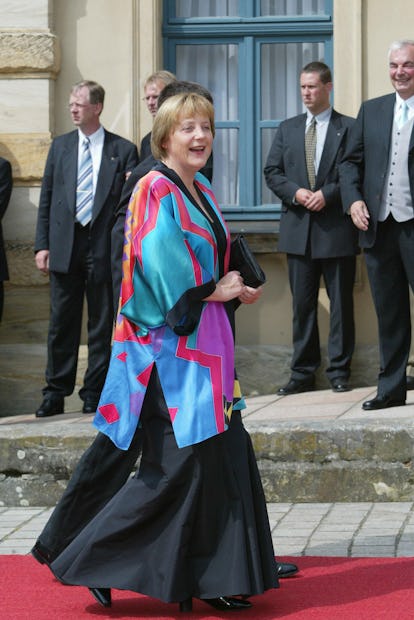 Beckham, Victoria Auctioning off 600 pieces from her wardrobe for charity. Looking posh has never felt so good.
Clooney, George Plans to marry in Giorgio Armani, may or may not be contractually obligated to do so.
Copeland, Misty Gets her dance on for the new Under Armour ad campaign. Shows Free People how it's done.
Dannijo Launching footwear, much to the Man Repeller's delight.
Delevingne, Cara Carried a pizza box clutch. Didn't wear fur.
Kardashians The sisters are launching a line of heat styling products and hair accessories, making that famed mane all that much easier to acquire.
Merkel, Angela The German chancellor has been working the same colorful silk kimono top for the past 18 years. Has been slightly too busy to go shopping for a new one.
No.21 Alessandro dell'Acqua is opening the label's first store. Bravo!
New York City Ballet Recruited Sarah Burton, Carolina Herrera, Mary Katrantzou, Valentino and more to design costumes for this fall's gala. Brava!
Perry, Katy Wore a pepperoni onesie. Upstaged Cara's clutch.
Pugh, Gareth Is bringing his London look to New York Fashion Week this year in hopes that it will be a jolly good time.
Reid, Tara Is having a fragrance moment, thanks to her recent launch: a lavender-scented, Sharknado-inspired perfume.
Rent the Runway Plans to open first store, à la Blockbuster. Let's see how this plays out.
Rihanna Trademarks her last name; reminds us that she actually has a last name.
Tisci, Riccardo Had the best time ever in Ibiza on his birthday. Actually, there's no chance you missed this one.
VFILES Pits interns against each other in a new web series, Intern Files. Instagram battles to follow.
Vreeland, Diana Inspired a new collection of fragrances, available at Neiman Marcus. Would not be pleased about following Tara Reid as the second most important perfume news of the week.
Wang, Alexander Is bringing his runway show back to Manhattan this fall. Uber drivers thank you, dear Alex.
Werbowy, Daria Styled to look like Diane von Furstenberg in her Studio 54 days in the designer's new ad campaign. Did somebody say twinning?