Style Dynasty
Angela Missoni's boho-luxe dream house in the hills outside Milan has become home base for a famous fashion clan rebounding from heartache.
---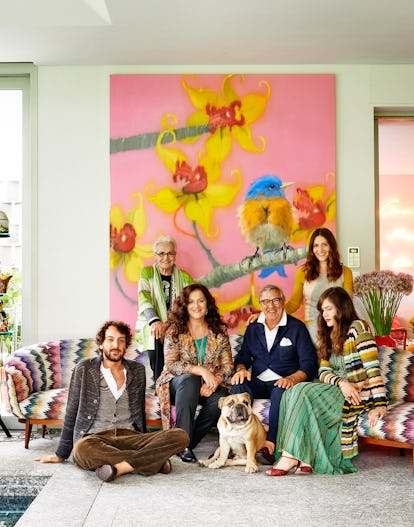 Photographer: Adrian Gaut
"It's the house of my dreams," Angela Missoni says. She is talking about her beloved villa in the hills northwest of Milan, but her words also evoke other meanings of the word "house": the idea of a dynasty and, in the fashion world, a company of historic stature. All these definitions converge on a summer afternoon when the designer; her mother, Rosita; her children, Margherita, Teresa, and Francesco; her partner, the businessman Bruno Ragazzi; and Margherita's 9-month-old son, Otto, come together for what is essentially an informal acknowledgment of a new phase in the life of the famous fashion clan. It's not precisely a celebration, since 2013 was a traumatic year: Angela's brother Vittorio, who played a vital role in Missoni, died in a plane crash; then, just a few months later, Angela's father, Ottavio, the patriarch who founded the company in 1953, passed away. During months of mourning, Angela and her surviving brother, Luca, kept business—and the family—going.
Angela's villa in Brunello, the small town near Sumirago that is home to the company headquarters, has become the gathering place for the Missonis. A luminous, angular structure built in 1965 and lovingly renovated by Angela, who moved in three years ago, the house is filled with a colorful, eclectic mix of Missoni fabrics, contemporary art, heirlooms, children's furniture, and kitsch trinkets, including Angela's collection of Bambi memorabilia that she finds in flea markets around the world. Surrounding the house is a sheltered garden with stately trees, designed in the 1970s by the Italian landscape architect Pietro Porcinai.
Angela was living nearby when, after years of searching, she and Ragazzidiscovered the place. "We walked into the garden, and I just realized that it was our house," she says. "I think, too, that it's a house to unite the family." A striking woman in her 50s with a cascade of wavy dark hair and a manner that blends maternal warmth with a robust air of no-nonsense authority, Angela has found time for a conversation during a photo shoot that places her in the center of a multigenerational bouquet of Missonis, all dressed in Missoni—a reminder that in the age of globalization, this company remains entirely family-owned.
The scene is half home movie, half country-house charades, all infused with an offhand elegance and a spirited, shambolic vibe. Margherita, Missoni's accessories director, holds a bright-eyed Otto on her hip. Rosita, a cofounder of the company and presently the head of Missoni Home, sweeps into the sitting room, impeccably chic in a black and white knit coat and matching checkerboard earrings, her silvery cropped hair and signature small braid gleaming in the sunlight. Johnny, the family's English bulldog, jumps for a much-chewed Frisbee held up by Angela's son, Francesco. Six feet five and drop-dead handsome, he strolls in barefoot, wearing a T-shirt full of holes, and is soon properly outfitted in a moss-colored Missoni jacket and a pair of sporty shoes. Angela's youngest daughter, Teresa, an ethereal Hedy Lamarr type, holds a World Cup sculpture she has created for a charity benefit: a soccer ball, brightly lacquered and deconstructed into the form of a huge surreal flower. "Sports and color—I think this, in a way, sums up our family," she says, referring to the fact that her grandfather Ottavio was an Olympic runner who began his fashion career making activewear. Angela, with effortless authority, marshals this merry band into formation by the indoor pool. "Look normal, everybody!" she begs.
A bit later, after family and crew have paused to crowd around a big table in the wood-paneled kitchen for a country lunch of onion frittata, mozzarella, and prosciutto with melon, Angela finds time to whisk a visitor on a quick tour of the house. Her favorite parts are those she added herself: the glass-walled, plant-filled indoor pool–cum–dining area, which was once an outdoor terrace; her loftlike second-floor bedroom, which can be divided by a sliding floor-to-ceiling screen that Angela, who doesn't like pictures in frames, has covered with a mosaic of family photographs. Sliding doors near the bed and breakfast table open to a broad south-facing terrace that overlooks tree-covered hillsides rippling down to a distant view of Lake Varese. "I love being up high and seeing treetops and sunsets," she says. The terrace is thickly carpeted with multicolored sedum that resembles a living Missoni fabric.
The house is a work in progress through which Angela expresses herself in her rare free time. "I love playing decorator," she says as she stands on the balcony, pointing out an old beech tree she's particularly fond of, and describing the landscaping she has done to frame the view. "If I'm alone here, I am continually moving things around to find the perfect place for something, then to balance it, to put things in equilibrium. I think that if I hadn't worked in fashion, I would be one of those compulsive housewives!"
But not working in fashion was never really an option. Like her older brothers, Vittorio and Luca, Angela was raised as part of the family business, which expanded from a small company known for attention-grabbing chromatic knits and iconoclastic presentations in the '60s (Missoni was banned from the Florence shows for sending out braless models in lamé tops) into a global enterprise. "We knew as children that our parents were different from others, with a much broader vision," Angela explains.
Ottavio and Rosita's house in Sumirago was a nexus for a circle of friends that included sports personalities, journalists, theater and movie people, writers, and fashion legends. Yet in that cosmopolitan atmosphere, the Missonis maintained a very Italian sense of connectedness with the region and with tradition. It is one of the reasons that they always took a measured approach. "My father wanted to do his work up to the point where we were all prosperous, but beyond that, he wanted Missoni to remain an artisanal business," Angela remembers. "In the '70s, when there were all kinds of proposals for expansion, I remember my mother saying, 'Yes, we can do this, and that…' and my father saying, 'Why do you want to work more? To earn more for what? What good is it if we don't have time to spend it?' That idea is what kept Missoni small. Today, our situation is almost unique."
Perhaps her father's philosophy is why Angela, who says she was "the quiet one" of the family and confides that early on she felt overshadowed by her brothers, focused on starting her own family before joining the business. At 23, she married the events producer Marco Maccapani, and by age 28, she was deeply involved in raising Margherita, Francesco, and Teresa. She worked part-time "for pocket money" and because it was expected of her. "I never questioned that I had to work," she says. "My mother, my grandmother, and my great-grandmother all worked." But she had very little interest in a big career.
Yet Angela had fashion in her blood and grew up knowing every step in the production of a collection, just as a farmer's daughter knows about crop cycles. So, in the '90s, as her children reached school age and her parents explored other interests (Ottavio was making tapestries and designing theatrical costumes, and Rosita was devoting more and more time to home decor), Angela came to the fore. She first designed jewelry and then, in 1996, when her parents transferred control of the company to their children, Angela, by then divorced, made her debut as the creative director.
"I think I was a bit of a surprise," Angela says. "It's as if my parents invented a language, and I managed to enlarge the vocabulary." Under her direction, the company—the sales of which had stagnated in the '80s and early '90s—experienced a dramatic renaissance. Not only did she make bold innovations in production—"I set up a system of doubling and redoubling the material, so that you could really make outerwear"—but she also revolutionized the brand's image. She hired the photographer Mario Testino to shoot the ad campaigns for her early collections, and his moody images of the model Gisele Bündchen draped in Missoni made it clear that the label was once again cool and on point.
Angela's second-generation Missoni was about sexy glamour and slightly ironic Euro-bohemianism, based on a playful rediscovery of tradition and craftsmanship—a concept that at the turn of the millennium enlivened all of Italian fashion, from Prada to Tod's to Gucci. The Missoni rebirth continued with the third generation, as Margherita, a brainy beauty who studied philosophy at the University of Milan and at Columbia University, in New York, where she also acted at the Lee Strasberg Theatre and Film Institute, became an international It girl and then the face of the brand. "It wasn't a marketing project," Angela clarifies. "Margherita had the style and was at the age to make my projects credible. She is a natural, spontaneous ambassador who can reach a whole new audience."
In 2011, Margherita starred in the ad campaign for Missoni's collaboration with Target; the entire six-week supply of merchandise sold out in a few days. Plans were afoot for the label's 60th anniversary celebration in 2013, as well as a major expansion into Asia, when Vittorio Missoni's plane went down as he was returning from vacation in Los Roques, an archipelago off the coast of Venezuela. When Ottavio died soon after, Angela's already central role in the business—and the family—became even more crucial.
That Christmas, when it seemed too painful to have the traditional celebrations at Rosita's house, everyone gathered around Angela's huge dining table (a present from Rosita) next to the pool, her vintage Bambi figurines serving as a centerpiece. "There were 24 of us at that table: my nieces and nephews and their boyfriends and girlfriends, my ex-husband and his partner," she remembers. "Family is more than just blood relationships. The circle of affection is always growing wider."
The same is true in business: Angela has brought out 10 collections since Vittorio's death and hired a new creative consultant, Rossella Jardini, who formerly worked for Moschino. Margherita, who became the head of accessories and beachwear in 2010, has been confidently positioned by her mother in the press as her successor—or, Angela said recently, it could be Teresa or Francesco. In any case, there seem to be no worries about succession, and the feeling of continuity is strong. "You can't look back, you can't be in fashion standing still," Angela says. "You must go ahead. Although I have everything from the past in my head—all the articles, all the shows—I look forward."
The final part of the photo shoot takes place in the garden, where Angela gathers her flock under her favorite tree. Seeing them together, it is impossible not to think of the faces missing from the portrait, of earlier photographs where an unbroken constellation of children and grandchildren surround the stately figures of the matriarch and patriarch. Yet, in spite of the gaps, the vibrant Missoni spirit is there: offbeat, carefree, glamorous, of all ages, and, above all, united.
Standing with the photographer, Angela gives the pictures a quick expert scrutiny. "I see things that others don't see: small details,'' she says. "For me, it is not the perfection of the photo, it is the harmony. And I have the desire, the need, to put things in harmony. It is what I have always tried to do."
And with that, the Missonis begin to disperse, off to the remainder of their afternoons, sounding like any other big family: Somebody wants to borrow a car, somebody has lost a house key, somebody is complaining about mosquito bites, somebody wants coffee, somebody promises to return for dinner. Johnny the bulldog flops down contentedly on the grass. Rosita is chatting to Otto, who is bouncing on a blue plastic horse that once belonged to his aunt Teresa. "In the end, it's all about living well, isn't it?" Angela says, watching her mother and grandson in the distance. "The thing is to enjoy life, to take advantage of what we have. We are here to live as well as we can."
Francesco Maccapani Missoni, Rosita and Angela Missoni, Bruno Ragazzi, Margherita Amos and Teresa Maccapani Missoni, with Johnny, an English bulldog, gathered in the pool room, in front of Ann Craven's Pink Thinking of You, 2004.

Photographer: Adrian Gaut
The family room, with Tracey Emin's Neon Life: A Portrait of Bruno Ragazzi, 2010, a 1950s vintage sofa, and vintage chairs covered in Missoni Home silk jacquard.

Photographer: Adrian Gaut
The pool room with a 1970s dining table and a 1980 Missoni rug.

Photographer: Adrian Gaut
An exterior view of the house.

Photographer: Adrian Gaut
Jenny Holzer's LED sculpture White Purple Curve, 2005; a Poltrona di Proust chair by Alessandro Mendini, 1978; and a 1960s lamp.

Photographer: Adrian Gaut
A Ryan Trecartin image for W magazine, November 2010; and a Piero Fornasetti chest, 1963.

Photographer: Adrian Gaut
The family room with a dining table by Jorge Pardo, 2005; surrounded by 1950s coffee shop chairs.

Photographer: Adrian Gaut
Francesco Vezzoli's Enjoy the New Fragrance (Georgia O'Keeffe for Greed), 2009; a Pietro Scampini 1986 sculpture (on floor).

Photographer: Adrian Gaut
Margherita, Teresa, and Francesco.

Photographer: Adrian Gaut
A pool-room detail with Graziella Marchi's Rabbit and Radishes, 1988; Angela's collection of vintage children's wicker chairs; and a 1970s Gae Aulenti lamp.

Photographer: Adrian Gaut
The sedum-covered green roof outside Angela's bedroom.

Photographer: Adrian Gaut
Sittings editor: Viviana Volpicella.