Angelina Jolie's New TV Show Will Teach Kids About Fake News
And not just the fake news about her and Brad.
---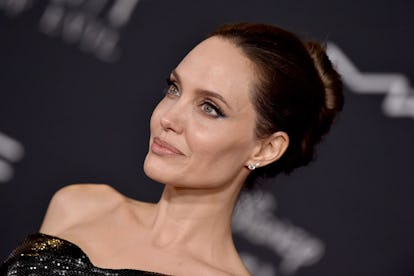 Axelle/Bauer-Griffin
After writing a series of op-eds over the past few years and nabbing a role as a contributing editor to Time, Angelina Jolie is really leaning into her newfound journalistic side gig. In fact, like most people working in journalism, she seems concerned about the general public's lack of basic media literacy. And she's hoping to correct that with, of all things, a television show for kids and teenagers.
According to Variety, Jolie has signed on to executive produce BBC My World which will leverage the journalistic network of the BBC to help kids wade through what's real and what's fake—and ultimately make up their own minds about important issues.
"As a parent I am happy to be able to give my support to a program that aims to help children learn more about the lives of other young people around the world, and connect them to each other," said Jolie in a statement obtained by Variety. "I hope it will help children find the information and tools they need to make a difference on the issues that matter to them, drawing on the BBC World Service's network of thousands of journalists and multiple language services around the world."
Alas, Jolie herself will not step into the role of Nick News's Linda Ellerbee for the Gen-Z set. Former Blue Peter and current BBC presenter Radzi Chinyanganya will serve as host for the weekly half-hour program. Though, as a preview indicates, that doesn't necessarily mean Jolie will never pop up on the program
And lest you think the BBC of it all means Jolie only cares about British children, fret not. The program will air on BBC World News, which is an international channel carried by several cable operators in the United States. For cord cutters, content will also be available on YouTube.
You also won't have to wait long for the show. It premiers this Sunday at 11:30 a.m.
A trailer of the programs (which, yes, features Jolie) indicates that topics from climate change to gender stereotyping to facial recognition technology will be addressed with an emphasis on encouraging viewers to use their own critical thinking skills.
While even the combined powers of Angelina Jolie and the BBC alone can't combat the epidemic of fake news and misinformation, it's increasingly clear something has to be done.
Only 13.5 percent of 15-year-olds in America can properly distinguish and opinion from a fact. That's according to an international standardized test administered in 2018. In the United Kingdom, only 11.5 percent of test takers could. (The best performances on that portion of the test came from students in China). Of course, a quick perusal of Facebook comments and Twitter shows the problem of lacking basic media literacy is not contained just to teenagers.
While the media certainly isn't above criticism, attacks on journalism have come from all corners of the political spectrum. Even outside of politics, kids today are bombarded with all sorts of misleading information and undisclosed advertising from influencers. While some non-profits have arisen to help combat the problem (and states like California have even passed laws making media literacy resources more readily available), Jolie joining the crusade only helps.
Plus, the woman certainly knows a whole lot about fake news. We all know someone who would believe it if we told them we heard she was about to join a throuple with Brad and Jen.