Angelina Jolie Continues Her Comeback with a New Netflix Film
The movie is her latest directing project.
---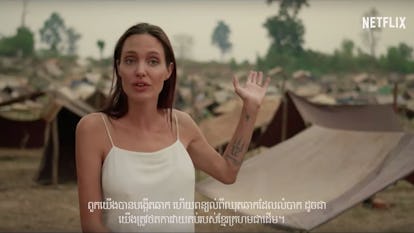 Since a brief reprieve following the announcement of her divorce in September, Angelina Jolie is getting back to work. She's signed on to be the new face of a perfume, wrote a powerful op-ed about refugee's rights for The New York Times, and now she's prepping for the release of her next directorial effort. A first look at the actress-turned-director's latest film project for Netflix, First They Killed My Father, has hit the internet.
Jolie directed the movie, based on the autobiography of the same name written by human rights' activist and Jolie's personal friend Loung Ung, about the hardships the nation of Cambodia endured under the regime of the Khmer Rouges, the Cambodian communist party, in the 1970s. Two million people, including Ung's father, mother, and two sisters, are estimated to have perished in the genocide that took place during the four years of Khmer Rouge rule.
"The heart of it is Loung's story—it's the story of a war through the eyes of a child, but it is also the story of a country," Jolie says in the preview for the film. "It's the first time there's something on this size about this war in this country."
People reports that Jolie tapped only Cambodian actors to appear in the film, which will be primarily in Khmer, the language spoken in Cambodia. Many of the actors are real-life survivors of the genocide or descendants of survivors.
Producer Rithy Panh said, "In order to mourn we must speak. It's the possibility of using creation to reconstruct ourselves. Telling a story is also mourning, it's also moving on."
Jolie reportedly fell in love with Cambodia after filming Lara Croft: Tomb Raider there in 2001. The experience prompted her work United Nations High Commissioner for Refugees in the country, and she adopted her first child, Maddox, from an orphanage in Battambang, Cambodia in 2002.
According to The Guardian, Maddox urged Jolie to make the film and was involved in the production process.
"I feel like nobody's here for themselves," Jolie said in the trailer. "And everybody who's here to do any job is here to put something forward and help their country speak."
See the promo for yourself below:
Incidentally, the film will be Jolie's fifth directorial effort, and her third film to involve war. Previous efforts include Unbroken, about a plane crash during World War II, and In the Land of Blood and Honey, set during the Bosnian War.
Watch W's most popular videos: