Angelina Jolie Gave a Lecture on Women's Rights
That's Professor Jolie to you.
---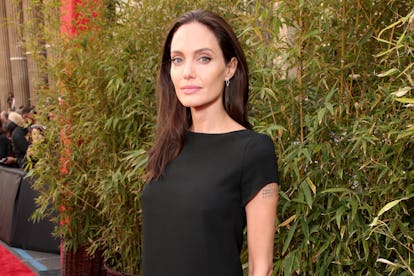 Todd Williamson/Getty Images
Angelina Jolie is a woman with many titles—actress, director, perfume spokesmodel, producer to humanitarian and activist.
Now, she's nabbed another gig: college professor.
Back in May 2016, Angelina announced that she'd be teaching a master class at the London School of Economics, and ahead of the course's start date, she has given her first lecture at the school.
People reports that the filmmaker spoke to students at the university's Centre for Women, Peace and Security about how women in refugee camps are at greater risk for sexual violence and other crimes.
"Angelina Jolie spoke to a class of students taking the postgraduate course Women, Peace and Security, as part of her role as visiting professor in practice in the Centre for Women, Peace and Security," an LSE spokesperson said. "Miss Jolie spoke about her experience and what has motivated her work as UNHCR special envoy and as co-founder of the Preventing Sexual Violence Initiative, and took questions from the class."
Angelina helped launch the Preventing Sexual Violence Initiative in 2012.
But even though the topic of her discussion was serious, the actress still graciously posed for a few photos, which subsequently began popping up on social media, with students in the class.
It seems that Angelina will be keeping plenty busy in the world of academia and beyond in the wake of her divorce from Brad Pitt. Her LSE master class is set to begin in September, and meanwhile, she has confirmed her involvement in several new film projects, including her own return to the big screen after two years behind the camera.
Last year, Angelina was rumored to also be teaching at Georgetown University, whose Georgetown Institute for Women, Peace and Security is a sister program to LSE's Centre for Women, Peace and Security, though the university later clarified that that there were no plans for Professor Jolie to join the faculty.
In any event, Professor Jolie has a nice ring to it.
"Women's Rights Are Human Rights": 62 Fashion Insiders Speak Out in a Powerful Video for International Women's Day: