Angelina Jolie Is Making Plans for a High-Profile Return to Acting
She's in development to star in at least two big projects.
---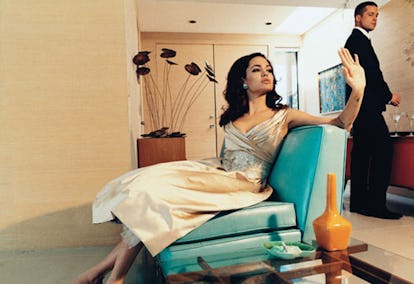 Can you call it a comeback if you never really stopped being a star?
Angelina Jolie has never disappeared from public view, remaining committed to humanitarian causes and film work with personal and global importance even as she underwent an ugly divorce from Brad Pitt. Over recent years, however, Jolie has stepped back from bigger, more mainstream projects, particularly in front of the camera. (Her last acting role was voice work in Kung Fu Panda 3, and her last onscreen role was her and Pitt's By the Sea, a flop. She hasn't had a major star turn since 2014's Maleficent.) That's all about to change soon, though, as Jolie is reportedly planning a major Hollywood return.
According to The Hollywood Reporter, the star is in the early stages of at least two big acting projects. One is an adaptation of Simon Sebag Montefiore's Catherine the Great and Potemkin: The Imperial Love Affair, about the relationship between the Russian empress and Prince Grigory Potemkin. The other is a World War II espionage drama called The Spy Who Loved, based on Clare Mulley's biography about Christine Granville, a rare female special agent (though women-centric WWII spy movies are officially a trend right now).
And while those projects are the nearest to fruition, they're not the only high-profile irons Jolie's got in the fire. She is also reportedly considering a return to her misunderstood villain side—the possibility of Maleficent 2 is still very much on the table.
Indeed, Jolie is poised to be busier than ever in the next couple of years. In addition to her renewed vigor for on-camera work, her commitment to directing remains intact. She is reportedly considering taking on an adaptation of Alessandro Baricco's 2004 novel Without Blood. The book, like many of Jolie's passion projects, examines the consequences of war.
One major Jolie project that may not make its way to the big screen? Africa. The film was due to be her next collaboration with Pitt, but if it does go forward at all, it will likely do so with Pitt's continued involvement, not Jolie's. Considering the fate of By the Sea and the promise of bigger Jolie projects to come, it might be a bullet dodged.
Watch W's Most Popular Videos: