Jolie for President
In case you missed it, here are the top style stories of the week.
---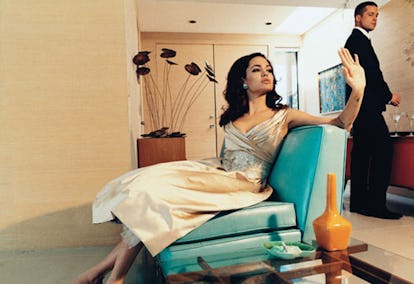 Abercrombie and Fitch The teen-tailer plans to pump less fragrance into the air, turn up the lights and turn down the music. My mother thanks you.
Altuzarra, Joseph Announced a new collaboration with Target. Start waiting in line now, folks.
Burberry Plans to launch skincare. On behalf of all those who admire Suki Waterhouse's complexion: Thank you!
Casiraghi, Charlotte Is the new face of Gucci Beauty. Duh.
CFDA To honor Instagrammer of the year at its annual award ceremony Unfortunately, ballots were cast before @CecilDelevingne made his debut.
Faithfull, Marianne Named the new face of Hedi Slimane's Saint Laurent campaign. Rock. On.
Huston, Anjelica Plans to sell 150 red-carpet gowns. Now that would make a statement at prom.
Jolie, Angelina May make the transition from actor to politician, a la Ronald Regan and Arnold Schwarzenegger.
Leto, Jared Posted a #TBT Instagram that proves he was into ombre locks before you even knew what that was.
Moss, Kate Is encouraging her younger sister Lottie to quit school and pursue modeling. But then how will she become a journalist, Kate?
Ora, Rita Upstaged Rihanna's pink wig with a bright fuchsia ski mask. We smell war.
Schulman, Nev The Catfish star is the new face of Rocawear. No, we're not pranking you.
Versace, Francesca Donatella's niece is expecting. Congratulazioni!
Wallis, Quvenzhane Couldn't be cuter as the puppy-holding face of Armani Junior.
Wilson, Louise The influential Central Saint Martins professor passed away at age 52.