Angelina and the Queen
In case you missed them, here are the top style news stories of the week.
---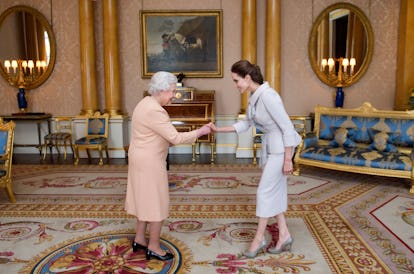 Banks, Tyra Launching a collection of all the products you need to smize. Apparently, eyes and mouth alone cannot complete the task.
Campbell, Naomi Plans to fight ebola with a fashion show. God speed.
Chung, Alexa Named the guest editor of Tommy Hilfiger's collection this fall. Sorry, Zooey Deschanel. Your time is up.
Delevingne, Cara Wore a bedazzled ski mask out to dinner in London. Rita Ora to counter with a bedazzled ski suit.
Galliano, John Officially named the new creative director of Maison Martin Margiela. Will not be starring in Lisa Kudrow's "The Comeback."
Heatherton, Erin The Victoria's Secret model's photos were stolen and leaked online, Jennifer Lawrence-style. No longer has very many secrets.
Jenner, Kylie Debuting a collection of hair extensions in true Kardashian style. Blondes need not click through.
Jolie, Angelina Was granted honorary damehood by the Queen of England. Wore a light gray suit by Ralph & Russo for the occasion. No vials of blood were visible.
Kroenig, Hudson Cements his supermodel status by appearing alongside Joan Smalls in the new Chanel ad campaign.
Lagerfeld, Karl Gives Louis Vuitton a makeover. Finds the strength to not transform the monogram into KL.
Lively, Blake Confirmed that she's pregnant on her blog Preserve. Explains why she launched the blog in the first place.
Obama, Michelle Finally wears Oscar de la Renta, admits that she wears Spanx.
Rocha, Coco Upstaged Lively's blog post by revealing that she is pregnant with her first child in a creepy Instagram video. Your move.
Serafini, Lorenzo The new creative director of Philosphy di Alberta Ferretti has some big shoes to fill.
Savage Beauty The Metropolitan Museum of Art Costume Institute's Alexander McQueen exhibition to hit London, at long last.
Weiss, Emily The founder of Into the Gloss launches a collection of products called Glossier. No word on whether or not they will enhance your smize.
West, North Rumored to have her own stylist. Confirmation to be found in her upcoming memoir.