There's More to Angelina Jolie's LBD Than You Might Think
The actress wore Saint Laurent to the premiere of "Kung Fu Panda 3."
---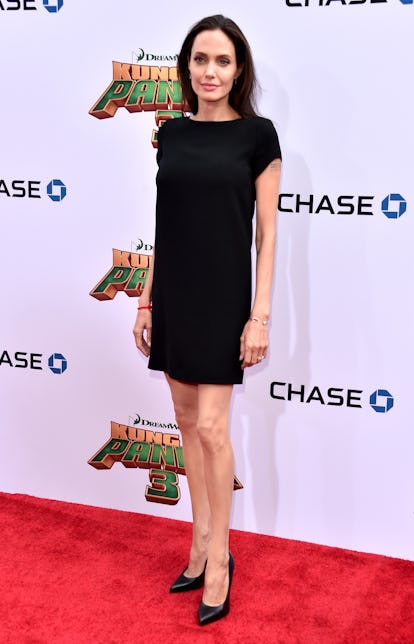 Who: Angelina Jolie
When: Saturday, January 16th.
Where: The premier of "Kung Fu Panda 3" in Hollywood, California.
What: A little black shift dress by Saint Laurent paired with black pumps.
Why: While some might consider this simple garment an example of Hedi Slimane's faults, its the impeccable fit that qualifies it as true "design."
Hedi Slimane's Greatest Hits for Saint Laurent: A Look Back
SS13 Look 4
Hedi Slimane debuted his newly renamed "Saint Laurent" collection in September, 2012. Edie Campbell, a favorite model of Slimane's at Saint Laurent, wears a dress that harkens back to YSL's "la saharienne" style, most iconically worn by Veruschka.
SS13 Look 7
Saskia de Brauw wore a rock-chic update on the YSL classic Le Smoking.
SS13 Look 13
With a dramatic pussycat bow, and a short short silhouette, Slimane's Saint Laurent touches on elements of old YSL combined with the California coast Slimane calls home.
PF13 Look 12
Sky Ferreira appears in the lookbook for the first pre-collection, one of the many musicians Slimane taps to appear in his collections.
FW13 38
Grunge was the focal point of Slimane's FW13 collection.
FW13 Look 44
One can't help but think this look was pulled right from Courtney Love's closet.
RE14 Look 10
Sasha Pivovarova wears Saint Laurent staples, leopard and leather, for the Resort 2014 look book
SS14 Look 2
The lip print ruled the runway for spring 2014.
SS14 Look 44
And it got an added dose of glamour in sequins.
FW14 Look 5
60s shift dresses and make-up are key moments for Slimane's FW14 collection. Cara Delevigne also covered the October 2014 issue of W wearing this same look.
FW14 Look 7
Mad for plaid for FW14.
FW14 Look 52
Bring on the sequins and shine! This season every fashion editor was dying for variations of the black patent boots and glittery dresses and accessories.
FW14 Look 54
Dramatic capes were always a favorite of editors attending Slimane's runway shows.
SS15 Look 1
The one shoulder ruffle felt very YSL, updated for today's rock-chic babe in a cherry print and studded belt.
SS15 Look 51
This look features all the favorite Saint Laurent touches – a bit of distressed denim, sequins, and leopard, all worn by one of Slimane's muse Lili Sumner.
SS15 Men's Look #22
Heavy metal and western jewelry decorated the bodies of the few women (and the men!) who walked in Slimane's SS15 men's show.
FW15 Look #1
Because everyone needs and 80s prom dress/ballet tutu number. Paired with fishnets and touch boots, this is the epitome of Slimane's rock princess.
FW15 Look 23
For FW15 the print du jour was an all-over red lipstick print. Sexy and playful, it was a party girl's dress of choice for a night out.
FW15 Look 30
The dramatic one-shoulder look makes another appearance for FW15, this time in a graphic and stunning black and white.
FW15 Look 46
This fur-and-feather coat was by far the boldest fur on the FW15 season.
FW15 Look 54
Lida Fox had walked in many a Saint Laurent show, but this was probably the most daring look she ever sported on his runway.
SS16 Men's Look 74
Little girl dresses are a Saint Laurent favorite, especially when they are gilded in sequins.
SS16 Look 1
The fashion flock is in love with the slip dress at the moment, and this silvery slinky number feels very 90s Kate Moss.
SS16 Look 34
Another beautiful slip dress, sheer lace with beautiful embroidery.
SS16 Look 48
Slimane is known for getting his inspiration from the street and wearing Hunter wellies must be the epitome of the life of a trend – from the street to runway and back to the street again.