Anish Kapoor Sues the National Rifle Association for Using Cloud Gate in a "Hateful" Ad
"I am disgusted to see my work used by the NRA to promote their vile message."
---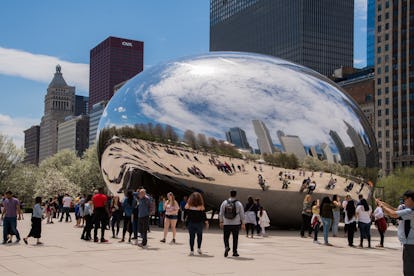 Patrick Gorski/NurPhoto via Getty Images
Anish Kapoor is done playing nice. After the artist noticed that the National Rifle Association had used one his pieces—Cloud Gate, more commonly referred to as "the Bean," in Chicago's Millennium Park—in an ad, he demanded that they remove images of the work. That was in March, when Kapoor wrote about it in an open letter for the nonprofit Everytown for Gun Safety. Three months later, the NRA hasn't complied, and Kapoor is now suing them for copyright infringement.
The ad, which debuted a year ago, with the title "The Clenched Fist of Truth," "seeks to whip up fear and hate," according to Kapoor's initial statement, as Artnet notes. "It plays to the basest and most primal impulses of paranoia, conflict and violence, and uses them in an effort to create a schism to justify its most regressive attitudes," Kapoor said. "I am disgusted to see my work—in truth the sculpture of the people of Chicago—used by the NRA to promote their vile message."
Kapoor, who filed suit with the U.S. District Court for the Northern District of Illinois, is not only demanding the removal of the sculpture from the NRA's propaganda, he's also ordering a retirement of the ad. Plus, in the lawsuit, which refers to the ad as "a clear call to armed violence against liberals and the media," he's seeking financial compensation in the form of $150,000 per infringement, attorney fees, and a cut of the profits and donations the NRA made and received from new members captured by the ad, per The Chicago Tribune.
"Since publishing my feelings about the NRA's unauthorized use of my work Cloud Gate in their publicity video, I have been overwhelmed and moved by the support of so many people who, like me, are appalled by the NRA's divisive and hate-filled campaign against the democratic and humane values of the people of America," Kapoor said in his most recent statement following the lawsuit. "In light of this solidarity and support I am encouraged to confront this organization and hold it to account for its blatant copyright infringement."
Related: The Worlds "Blackest Black" and the Hilarious Artist Feud Behind It