Anita Pallenberg, Legendary It Girl and Former Partner of Keith Richards, Has Died
The actress, model, and designer was 73.
---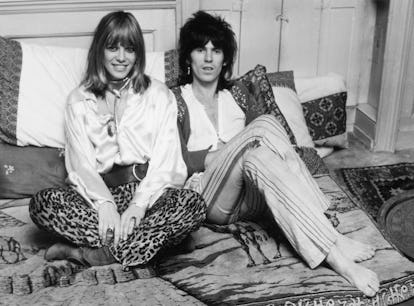 McCarthy/Daily Express/Hulton Archive/Getty Images
Keith Richards' former partner of 12 years, Anita Pallenberg, died at the age of 73 on Tuesday evening, reports The Mirror. The pair was together for more than a decade, from 1967 to 1979, and had three children together. In Richards' autobiography, Life, he writes of Pallenberg, "I like a high-spirited woman. And with Anita, you knew you were taking on a Valkyrie—she who decides who dies in battle."
Pallenberg was an actress, model, and designer in her lifetime, not to mention a muse to the Rolling Stones. Perhaps her most memorable on-screen role was in Performance, staring alongside Mick Jagger.
Richards wasn't the only member of the Rolling Stones that Pallenberg took an interest in at one point or another. The Mirror also notes that she dated the band's former guitarist, Brian Jones, and was rumored to have had a short relationship with Mick Jagger—though that remains unconfirmed by either party. Richards mentioned the latter affair in his autobiography.
Reports have not yet been released as to the exact cause of death, but The Mirror reports that Richards is, as expected, "devastated" over the loss.
A Look Back at Anita Pallenberg's Glamorous Groupie Style Throughout the Years
Keith Richards and Anita Pallenberg in London.

Wesley/Getty Images
Rolling Stones guitarist Keith Richards with Anita Pallenberg and their son Marlon at Heathrow Airport, accompanied by lead singer Mick Jagger. September 1970. (Photo by Daily Mirror/Mirrorpix/Mirrorpix via Getty Images)

Mirrorpix
Anita Pallenberg accompanied The Rolling Stones on their European Tour. Here, the model and actress is pictured with her son Marlon.

J. Wilds/Getty Images
Rolling Stones lead singer Mick Jagger and the band's lead guitarist Keith Richards at London Airport with the German Actress Anita Pallenberg in 1968.

Central Press/Getty Images
19-year-old actress Anita Pallenberg with Brian Jones, guitarist and founder member of the Rolling Stones pop band. She has just flown in from Munich to Heathrow airport amid rumours that she is to marry Brian. (Photo by J Wilds/Getty Images)

J. Wilds
Italian-born German actress Anita Pallenberg, whose films were less publicised than her relationships with three of the Rolling Stones. (Photo by Hulton Archive/Getty Images)

Hulton Archive
Rolling Stones guitarist Brian Jones with his girlfriend actress Anita Pallenberg and Marianne Faithfull at Heathrow Airport, 11th March 1967. They are there to to fly to Tangiers with other members of the band. (Photo by Dove/Express/Getty Images)

Dove
Singer Marianne Faithfull and actress Anita Pallenberg at Heathrow Airport to fly to Tangiers with their Rolling Stones boyfriends, 11th March 1967. (Photo by Dove/Express/Getty Images)

Dove
Anita Pallenberg and Keith Richards arrive for a showing of the film 'Privilege, directed by Peter Watkins, during the Cannes Film Festival, 5th May 1967. (Photo by RDA/Getty Images)

RDA
From left to right, Mich?le Breton, Anita Pallenberg and Mick Jagger on the set of Donald Cammell and Nicolas Roeg's psychological thriller 'Performance', UK, 1968. (Photo by Andrew MacLear/Getty Images)

Andrew Maclear
Anita Pallenberg, Italian actress and model, with Keith Richards, British guitarist with The Rolling Stones, attending the premiere of 'Performance', circa 1970. Pallenberg co-wrote the film, which stars Richards' Rolling Stones bandmate, Mick Jagger. (Photo by Keystone/Hulton Archive/Getty Images)

Keystone
Italian-born actress and model Anita Pallenberg, UK, 31st January 1971. (Photo by Blackman/Daily Express/Getty Images)

Express
English musician Keith Richards with his partner Anita Pallenberg and children at the wedding of Mick Jagger and Nicaraguan-born Bianca De Macias in Saint-Tropez, France, 12th May 1971. (Photo by Reg Lancaster/Daily Express/Getty Images)

Reg Lancaster
DEZO HOFFMANN/REX/Shutterstock
Goodtimes/Kobal/REX/Shutterstock
Paramount/Kobal/REX/Shutterstock
Former models, actress Anita Pallenberg and musician Marianne Faithfull at the Mudd Club, New York, New York, February 10, 1980. (Photo by Allan Tannenbaum/Getty Images)

Allan Tannenbaum
Anita Pallenberg and her son, artist Marlon Richards at the launch party of Dan Macmillan's new multi media exhibition area, Zoltar The Magnificent held on 6th June 2002, in London.

Dave Benett
Model Kate Moss and actress Anita Pallenberg attend a private screening of classic film "Performance" at the Electric Cinema on May 7, 2004 in London.

Dave M. Benett
Anita Pallenberg attended the "Topshop Jumbo Thrift Sale" Auction & Party at Topshop Oxford Street on December 1, 2004 in London. The Charity sale is in aid of the Terrence Higgins Trust. Garments have been donated by high-profile names in the spheres of fashion, music and the arts, including Yves Saint Laurent, Valentino, Armani and Chloe.

Dave M. Benett
Anita Pallenberg attended a star-studded party for the V&A Exhibition Versace at the V&a, A Retrospective Of The Work of Gianni Versace, in London.

Dave Benett
Anita Pallenberg attended a Burberry party at the In and Out Club.

rune hellestad
Anita Pallenberg walked the runway at the Pam Hogg show at Fashion Scout during London Fashion Week Spring/Summer collections 2017 on September 16, 2016 in London, United Kingdom.

Eamonn M. McCormack
Actress Anita Pallenberg by a drawing of Marianne Faithfull.

Richard Smith
Watch: Willow Smith, Zendaya, and Kiernan Shipka Perform a Heartfelt Rendition of David Bowie's "Changes"