Anna Baryshnikov Is Ready to Be a Leading Lady
With a breakthrough part in Kenneth Lonergan's acclaimed film "Manchester by the Sea" and a starring role in the upcoming CBS comedy "Superior Donuts," Mikhail Baryshnikov's 24-year-old daughter is poised to take center stage.
---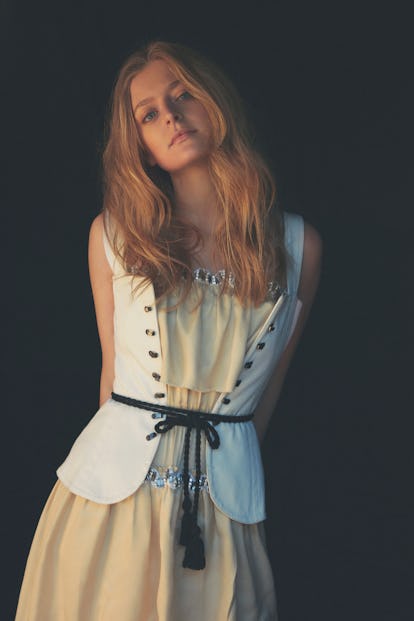 Photo by E and Roso, styled by Caroline Grosso. Produced by Biel Parklee. Hair by Jillian Halouska for R+Co at Starworks Artists, Makeup by Gianpaolo Ceciliato for Giorgio Armani Beauty. Fashion Assistant: Nada Abouarrage.
When actress Anna Baryshnikov was six years old, she stepped onto the stage for the first time and launched her career famously.
She had been cast as Peaseblossom, one of the handmaidens to fairy queen Titania, in a children's Shakespeare troupe production of A Midsummer Night's Dream in her native Palisades, New York. The night before her big debut, her babysitter told her, "Make sure you project so that the man in the back of the room can hear you." She took the advice to heart. "It was supposed to be this beautiful, light moment," she recalled on a recent afternoon in Brooklyn. "I suddenly start screaming."
The audience broke out in laughter and Baryshnikov, still unaware that she had botched it, reveled in the generous reaction. It whetted her taste for making people laugh — a skill she's brought to her breakout role in Kenneth Lonergan's third directorial effort, Manchester by the Sea. Baryshnikov, now 24, plays Sandy, the sometimes-girlfriend and bandmate of Lucas Hedges's character Patrick Chandler. After the sudden death of his father (Kyle Chandler, who appears in flashbacks throughout the film), he finds himself in the care of his uncle Lee, played by Casey Affleck, who is himself grappling with the death of his brother in the aftermath of a prior personal tragedy.
When Manchester by the Sea showed at the New York Film Festival last month, Lonergan appeared for a question-and-answer session following the screening. "I've never seen there being a tremendous dividing line between comedy and tragedy," he said. Baryshnikov brings lightness to an otherwise weighty film; many of her scenes with Hedges play out in Sandy's bedroom, her mother waiting downstairs while they finish their "homework." The awkwardness and uncertainty of teenage sexual encounters is all right there: Patrick's hand gets stuck in Sandy's belt buckle; he unwraps and breaks condom after condom before getting it right; and they both leap to their feet, half-clothed but pretending to be hard at work on Powerpoint presentations, when Sandy's mom comes to the door to check in.
"Every time you see a scene where people who are having sex for the first time, or attempting to have sex for the first time, know what they're doing, it feels really alienating, because you're like, 'Apparently I had no idea,'" Baryshnikov said. The scene is also one of the most compelling depictions of free, active consent among teenagers in contemporary film: Sandy is clear, and vocal, about what she wants and when she wants it.
Manchester by the Sea offered Baryshnikov her first onscreen intimacy, and she once again fell prey to some questionable advice. An actress friend told her it was important to boost Hedges's confidence.
"We start the scene, and I was like, 'Your lips are really soft,'" she said. "He gave me this look" — her voice dropped melodramatically, as if to mimic his — "like, 'Why are you talking about this?'"
Baryshnikov is soft-spoken and delicate, a sharp contrast from her brash, energetic character in Manchester by the Sea. But in conversation, she can casually slip in and out of devastating imitations of friends and family. She was a fan of Lonergan's work prior to the film; by her estimate, she performed Jessica's monologue from This Is Our Youth over some 40-odd auditions, and she delivered a few of the lines again while we spoke.
And of course, it can't go unmentioned that she is the daughter of Mikhail Baryshnikov, the legendary dancer, choreographer, and former artistic director of the American Ballet Theater, and Lisa Rinehart, herself a former ABT dancer, now a journalist. I asked if they had ever nudged her towards dance, and she replied, "I think they secretly grabbed my feet at six months and were like" — here she feigned a thick Russian accent — "She doesn't have it. Move on!"
(Still, she admitted some trepidation at taking on the notoriously tricky Boston accent in Manchester by the Sea; she spent some of her off days hanging around malls near the titular Massachusetts town, eavesdropping.)
Baryshnikov has been steeped in performing arts since even before her first, inauspicious appearance on stage. Parents aside, her older brother Peter, 27, with whom she made home videos — homages to historical epics like Gladiator, "which, now that I watch them, are small independent films," Baryshnikov said — is now a photographer. Her younger sister, Sofia-Luisa, 22, is circling around visual arts. And her half sister, Shura, 35, the daughter of Mikhail and actress Jessica Lange, is a dancer and actress. Anna is herself also an avid writer who plans to venture into playwriting.
"It's clichéd, but it does feel like the one thing I've known about myself unwaveringly since I was little," she said. She spent her childhood in the wings and in the audience when her parents and siblings alike performed. They did the same for her. "It's kind of part of the deal in our family," she said.
After graduating from Northwestern, where she studied theater, Baryshnikov started auditioning for screen parts, landing a series of small television roles before her big break in Manchester by the Sea. In January, she'll head off to Los Angeles for several months to film the new CBS comedy Superior Donuts with Katey Sagal, based on the Tracy Letts play of the same name. In the series, Baryshnikov plays Maya, a Ph.D. student who uses the titular donut shop as something of a private study.
And she's already looking ahead: "I feel ready and excited for a role that has a full arc," she explained. She paused. "I wouldn't say no to the Hillary biopic, either."
Watch W's most popular videos here: