Anna Ewers's Super Normal Beauty Routine
The German model doesn't eat chocolate, loves Chanel eye cream.
---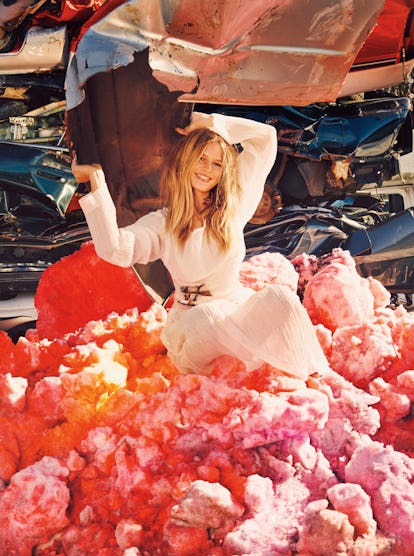 Photographer: Ryan McGinely Stylist: Edward Enninful
The German model Anna Ewers, who stars in W's September 2014 story, Super Normal Super Models, is known for her Bridgette Bardot good looks. Find out who her own icons are—and learn her beauty secrets—here. ____
Your look: Casual
Daily routine: Have a good breakfast.
Beauty from the inside out: Feel comfortable about who you are.
Exercise regime: Take long walks.
Beauty essentials: Good skincare.
Skincare secret: Drink a lot of water.
Pilates or yoga: Once in a while.
Best advice from mom: Don't eat too much chocolate.
Best advice from the pros: Don't use hotel shampoo.
Necessary splurge: Chanel eye cream.
Fragrance of choice: Dior Eau Sauvage.
Beauty icons: Daria Werbowy, Kate Moss.
Joy Ride: Anna Ewers Models the Best White Dresses of the Season
Chanel top, skirt, and bag; Oscar de la Renta belt; Calvin Klein Collection shoes.

Photographer: Ryan McGinely Stylist: Edward Enninful
Photographer: Ryan McGinely Stylist: Edward Enninful
Photographer: Ryan McGinely Stylist: Edward Enninful
Photographer: Ryan McGinely Stylist: Edward Enninful
Stella McCartney shirt and skirt.

Photographer: Ryan McGinely Stylist: Edward Enninful
Photographer: Ryan McGinely Stylist: Edward Enninful
Photographer: Ryan McGinely Stylist: Edward Enninful
Photographer: Ryan McGinely Stylist: Edward Enninful
Photographer: Ryan McGinely Stylist: Edward Enninful
Chloé dress; Maison Margiela tights; Céline mules.

Photographer: Ryan McGinely Stylist: Edward Enninful
Calvin Klein Collection T-shirt; Givenchy by Riccardo Tisci trousers; Achilles Ion Gabriel shoes.

Photographer: Ryan McGinely Stylist: Edward Enninful
Alexander McQueen coat, trousers, body chain, and shoes; Michael Kors Collection tank top.

Photographer: Ryan McGinely Stylist: Edward Enninful
Proenza Schouler top.

Hair by James Pecis for Oribe; makeup by Dick Page for Shiseido at Jed Root; manicure by Yuko Tsuchihashi for Chanel. Model: Anna Ewers at Women Management.

Produced by Mary-Clancey Pace at Hen's Tooth Productions. prop sylist: Robert Sumrell; Lighting Design: David Diesing; Lighting Assistants: Aubrey Mayer, Brent Lee; Digital Technician: Travis Drennen; Photography Assistant: Jake Silby; Creative Movement consultant: Luisa Opalesky; Fashion Assistants: Ryann Foulke, Dena Giannini, Nataleigh Lalonde; Set Assistants: Devin Rutz, Hue Hallums, Nathan Smith.

Photographer: Ryan McGinely Stylist: Edward Enninful