Anna Karina on Her Torrid Love Affair with Jean-Luc Godard
The actress explains what it was like to be in the heart of the 1960s French New Wave scene, and her relationship with the director who defined the decade.
---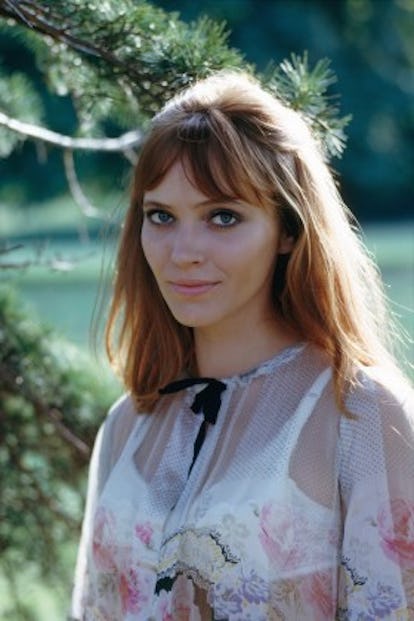 Gamma-Rapho via Getty Images
In 1959, director Jean-Luc Godard saw Anna Karina in a Palmolive soap ad. She was 17, and he was casting for his film Breathless, for which he offered Karina a small part where she would have to disrobe. She refused the role ("I would not get naked, especially for a small part!" she says), but a he came knocking a few months later to offer her the lead in his film, The Little Soldier. Karina accepted, and spent the following six years fully immersed in his world, first as his muse and then as his wife, starring in seven of his most legendary films, defining both French New Wave Cinema and the effortlessly chic French style that Americans have grown to love.
Now 75-years-old, Karina is currently in New York celebrating the restoration of the lauded films A Woman Is a Woman, which screened last night at BAMcinématek, and Band of Outsiders, which will begin its run at Film Forum on Friday May 6th through the 12th. Here, the actress talks her relationship with Godard on and off the screen.
You left your home in Denmark for Paris when you were 17 years old. How did Godard discover you? Jean-Luc Godard noticed me in a Palmolive soap ad. They thought I was nude in the ad because I had bubbles everywhere, but I had a bathing suit underneath! I was underage, I wasn't even allowed to do it, but no one even asked me. After that I made my first film with him, it was called The Little Solider, and I ended up doing the main part. I was underage, 17 or so, so Jean-Luc had to sign my contracts. At the time you had to be 21, not 18.
And was it instant attraction between you and Godard? It was all very exciting from the beginning. Of course we have a great love story and all that, but we were so different. He was 10 years older than me. He was very strange. He would go away and come back three weeks later. At that time, you had to sit by the phone and wait for the call, there was no other way to get in touch. It was much more complicated. There was no one to take the call and say "She's not here today, call her tomorrow." If you didn't get to the phone at the right time, you never got the message. It was difficult, and I was a young girl, not even 21—at the time Godard was 30. I know he didn't mean to hurt me, but he did. He was never there, he was never coming back, and I never knew where he was. He drove me a bit crazy.
Did you and Jean-Luc start dating immediately? It was little by little. He was looking at me all the time. It's something I can't explain. There was something very strange with us, and for the first three months or so nothing ever happened. We were shooting The Little Solider in Geneva, Switzerland, and one night all the actors in the film were invited to a dinner party in Lausanne, and I was with my boyfriend at the time. Suddenly, in the middle of the dinner, Jean-Luc passed me a piece of paper under the table. Then he suddenly stands up to leave and announces that he's going back to Geneva, which was where we were all staying. I look at the paper and on it was written, "I love you. I will wait for you at 12 o'clock at night at Café de la Prez," which was in Geneva. My boyfriend who is sitting next to me asks me what was written on the piece of paper, and I said "nothing." Then he takes it from me, and he sees Jean-Luc's note. We had to drive back to Geneva because that's where we were all staying, and my boyfriend said, "there's no way you're going to meet him," but it had been three months that Jean-Luc and I were looking at each other and there was definitely something going on, even though technically nothing was. So I went back to the hotel I was staying at with my boyfriend, packed my suitcase, and walked over a bridge to Café de la Prez. When I finally get there, Jean-Luc is sitting, reading a newspaper. I couldn't see him, but I knew it was him anyway. I went up and stood right in front of him, and it felt like I was waiting for hours, even though it was probably 2 minutes. Finally he takes down the paper and says, "There you are. Let's go." Then it became a love story.
How was the energy on set? You were dating the director, but had love scenes with Jean-Pierre Léaud and Jean-Paul Belmondo. I was always treated worse than the rest of the guys in the cast. On set Jean-Luc became a stranger. He was only thinking about his work as a director. Everything was always very last minute with him. There was no time for me; I got the script at the same time as the rest of the cast, which was usually about 5 minutes before we started shooting, and even then, there was barely any script. I didn't know the story any better than anyone else.
So how did you know what to do? Most all of it was improvisation? Yes, but it was incredible and it is still a total mystery to me. How was it that we all understood what to do, when we never had discussions about it? It was incredible with Jean-Luc, we knew what we were doing without knowing anything about it. He didn't have to talk about it all. He would never say, "You have to do it like this or like that." We all got the script at the last minute, we never got it before. He never liked to write scripts though, he always said that once he wrote it, he wouldn't want to do it anymore. Sometimes he would ask a friend to write a script, but then he'd say, I won't even read it, let alone shoot it. [Needless to say], the producers were never calm.
Was that famous scene in Band of Outsiders planned? When you take hands with the two boys and run through the Louvre? It was totally unplanned, we weren't allowed to do it. The guards were running after us like crazy, they were so angry at us. Today you'd go to jail.
So Jean-Luc never even got permission to film in the museum? No! We never had permission. He just told us to run like crazy. With Godard there's never a program. But when you're working with good actors, everyone somehow just knows what they are supposed to do. We all spent so much time together, on set shooting, and off. Even when we didn't see each other for three years, and then all got together, it felt like we saw each other yesterday, because we have so many memories. We had so many good times together.
Do you still speak with Jeanne-Luc? No, he doesn't want to see me, he doesn't want to see or talk to anybody. I have no idea how he is, I hope he's ok.
And he was like that in your relationship… Yes, he would go away for three weeks. He would say, "I'm going to go buy cigarettes," then come back three weeks later.
Is that why you ended it with him? Well after some years, of course, yes. I think about him with love, no hate. It was a great love story. We were together for seven and a half years. It's something you don't forget, people talk about it all the time. It's the greatest thing in the world when you get a gift like that.