Anna Laub Loves Brigitte Bardot, Loathes Over-Accessorizing
The model-turned-designer decodes her personal style.
---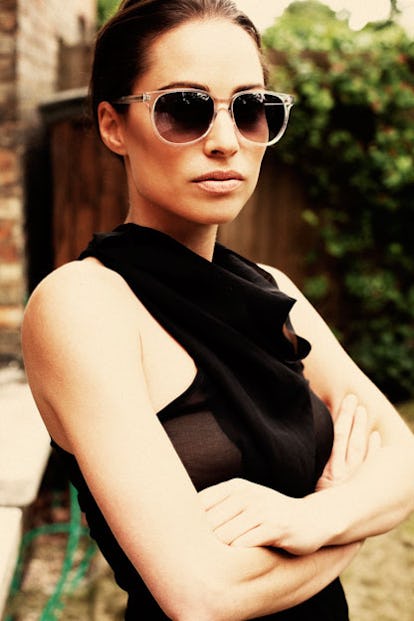 As the founder of PRISM, a line of eyewear, bathing suits, and handbags, Anna Laub knows something about incorporating style seamlessly into everyday life. The former model and journalist started Prism in 2009 with the goal of making the quotidian (in this case, glasses) simultaneously wearable and beautifully crafted. Her swimwear and bags follow a similar M.O. and are inspired by and named for exotic travel destinations. Here, Laub shares some of her favorite things—and tips on how to enjoy the summer, preferably in one of her bathing suits.
Define your style in three words: Minimal, unfussy, toned-down.
Daily uniform: Something simple and comfortable, but equally stylish—I am all about combining function and aesthetics in my everyday life.
Greatest hits: Balenciaga triangle mini skirt, ankle length black Cos dress, Celine leather T-shirt dress, Levi's roll-up carrot-top jeans.
Preferred footwear: Black flat zip-up boots, Miu Miu sandals, my PRISM leopard espadrilles, Rachel Comey boots, Alaia heels.
Finishing touches: Balenciaga necklace, rings commissioned by me and made by Anna Byers, my PRISM Manhattan Mini Bag in leopard pony/black leather.
Nighttime look: A pencil skirt, cropped sweater, and heels.
Best recent discovery: Beauty products by Bioderma and Sicily, and frozen fruit shakes. Lately I've been listening to Chronixx.
Favorite stores: In the U.S. definitely Barneys New York, Opening Ceremony, and The Webster. In Milan, Rossana Orlandi is the most amazing interiors store and one of my favorites in the world. I also love the bookstores at the Musée des Arts Décoratifs in Paris and the Serpentine Gallery in London.
Style pet peeve: Too many accessories! Over accessorizing is a definite fashion sin in my book.
Style icons: Marisa Berenson, Sophia Loren, Brigitte Bardot and all the old starlets of the '50s and '60s.
Last purchase: Brass earrings I found in Venice!
Lusting after: Houses in New York, LA, Paris and Kingston!
Favorite haunts: I love the rooftop at the Met, the Guggenheim, the Tate Modern, the pavilion at the Serpentine Gallery, Groucho, Bar Pitti.
Swimsuit shopping tips: Buy according to your body type. Think of it as buying well-fitting lingerie – it should complement your body. And buy colors that suit your skin tone rather than just buying something bright for the beach. Also buy 2 different sets that you can mix and match (then you essentially have four bikinis!).
Next vacation: Jamaica after Miami Swim Week!
What you're packing: From PRISM, I'll take the new Mustique travel/beach bag in basket weave/black pony because it's so functional and holds everything. I'll also wear my PRISM leopard espadrilles, Moscow Camouflage sunglasses and Capri Matte Black Ombre sunglasses, and three or four PRISM bikinis to mix and match. I'll also throw in my Miu Miu sandals. The rest of my wardrobe is all easy, transitional day-to-night pieces: shirt dresses, long skirts, soft cotton t-shirts, and tank tops.