The Jetsetter's Guide to Summer: Who Doesn't Like a Private Plane?
Where's the hotel bathroom with the best view? What's the world's best airport lounge? Anna Laub, the founder of the eyewear brand, Prism, answers these and other pressing jetsetters' questions.
---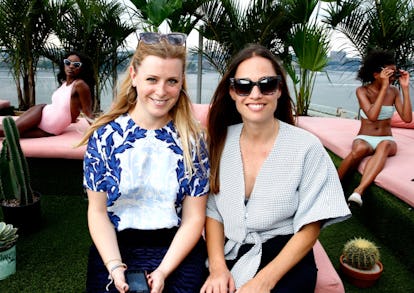 The most fabulous globetrotters we know share the in's and out's of the jetset lifestyle. Up first, Anna Laub, the founder and creative director of Prism. Launched as an eyewear brand, the London-based label has since added swimwear and accessories, with an ever-expanding, cool girl cult following that includes Beyoncé. Here, Laub talks airport spas, Positano, and the one thing that always saves her when she's traveling.
Favorite mode of travel? I like the freedom of a car. We did an awesome trip down the west coast of the U.S. a few years ago and you can stop wherever and whenever you want. You can stay for half an hour or three days if you feel like it. But who doesn't like a private plane?
What's your summer vacation destination? We are going to Hossegor in the west coast of France, and also Bali!
What's your favorite hotel in the world? I love Il San Pietro in Positano—it's so old school, but beautiful. It's movie star glamour at it's best. And the food is literally grown on the hillside right there. The whole hotel is built into the Cliffside, with the most amazing view of turquoise coastline looking at Capri. I also love Rockhouse Hotel in Negril and Strawberry Hill in Kingston. For me, a hotel is all about an amazing view and delicious food!
Most luxurious hotel bathroom you've ever seen? I stayed in a hotel in the Seychelles years ago with a sunken bath and the most amazing view.
Favorite off-season destination? Anywhere like Bali or Barbados in summer are amazing. In our winter (at Christmas time) they are so overcrowded, but in the summer they are bliss.
Go-to travel outfit: Normally, a T-shirt dress and leggings, and loads of layers, like a hooded sweater, and a huge cashmere scarf that doubles as a blanket.
Best travel shoe? My espadrilles—they are the ultimate travel shoe. They are comfortable and slip on and off, but still cool .
What's something you would never wear on a plane? Heels!
Best freebie you've stolen off a plane? Ear plugs! They are one of those things you never know you are going to need until you do.
Favorite airport lounge or restaurant? I love the airport in New York. I always spend the whole time in the spa waiting for my flight!
Airline with the best food? I love Virgin—they have all the good snacks and ice lollies. You feel like you are at the cinema, basically.
Best beauty products for travel? Bioderma moisturizer, I also just take Vitamin E oil and put that on, especially on the plane.
Name five essential pieces you can't travel without: Sunglasses, espadrilles, bikini, and my travel/beach bag that I can throw everything in!
What's a big packing mistake to avoid? I always used to pack things I never wear at home thinking I will find the perfect place or time to wear it. If I don't wear it at home, I don't know why I think I would ever wear it somewhere else. I've stopped wasting valuable packing space!
Go-to summer swimsuit? I'm really into one-pieces at the moment and a lot of the swimsuits I do double as tops, too. I love the Prism Samar or the Santorini swimsuit at the moment.
Name something that always saves you when you are traveling… The perfect T-shirt dress (we have just launched a line of Prism Luxe Basics), because if it is a great fit you can dress it up with heels and jewelry, or literally wear it to the beach or on the plane! It's the perfect one-piece-wonder.
Photos: The Jetsetter's Guide to Summer: Who Doesn't Like a Private Plane?
Anna Laub at the Prism Spring 2015 presentation in New York, New York, September 2014. Photo by Getty Images.
NEW YORK, NY – SEPTEMBER 08: Models pose at the Prism By Anna Laub Spring 2013 presentation at Le Bain on September 8, 2012 in New York City. (Photo by Jeff Schear/Getty Images)
Anna Laub in the Hamptons.
Anna Laub in Baja, Mexico.
Positano, Italy — one of Anna's favorite destinations, on the Amalfi Coast. Photo by Antonio Capone/AGF/UIG via Getty Images.
Negril, Jamaica, home to the Rockhouse Hotel. Photo by John Greim/LightRocket via Getty Images.
Anna cites Strawberry Hill Hotel in Kingston, Jamaica as one of her favorite destinations. Photo by Chris Jackson/Getty Images.