Anne Hathaway and Jason Sudeikis Try to Explain Colossal, Their Troublesome and Wildly Inventive Monster Movie
The co-stars on the unsettling issues confronted by director Nacho Vigalondo's film, out this week.
---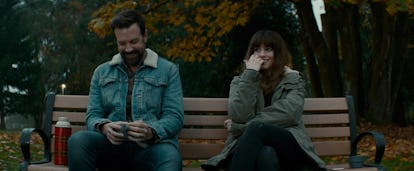 It's springtime in Manhattan, and Anne Hathaway and Jason Sudakis are sitting in a very fine hotel room in Midtown discussing the rather unsettling themes in their new kaiju movie, in theaters this week. In its first act, Colossal, directed by Nacho Vigalondo, comes off as whacky and amusing as its premise suggests: After being unceremoniously dumped by her rich, handsome boyfriend (Dan Stevens), Gloria (Hathaway), a degenerate New York party girl, returns to her suburban hometown only to discover that every time she gets black-out drunk she gains the ability to remotely control a towering, Godzilla-esque creature that terrorizes the citizens of Seoul all the way across the planet. (Essentially, the monster is her avatar.)
But as audiences are lulled into a false sense of monster-movie escapism, Gloria becomes aware of the gravity of her actions (i.e., the deaths of hundreds of people), and her childhood pal Oscar (Sudeikis), who has become her new drinking buddy, is transformed into a physically abusive man by her romantic scorn.
"It's hard to watch," admitted Sudeikis. "And frankly, it's hard to do glib interviews about."
For Hathaway, who's been flying under the radar for the past few years (the only widely-released film she's starred in since her 2012 Oscar win for Les Misérables was 2015's The Intern), doing the film was a no-brainer. "I read the script and I 'got it,' and I met Nacho and I got him," she explained. "I went into this so confident—no second-guessing whatsoever."
It turns out not everyone felt the same way she did. "About two weeks into filming, on the same day, nine people on the crew came up to me to say, 'Oh, I get it now,'" she recalled. "I didn't quite realize I was out on an island by myself."
One might expect Sudeikis to have had at least some trepidation—his character turns out to be deeply detestable. Ultimately, though, that wasn't his concern. "It's not my job to judge the guy," he said, even going so far as to liken the experience to that of Sarah Paulson and Michael Fassbender playing abusive, abhorrent slave owners in 12 Years a Slave. "For me, it wasn't 'Oh, this is going to come across?' but, 'How am I going to make this seem believable?'"
And it is very believable. When Oscar does his 180 from harmless old crush to abusive sociopath, it makes sense, both in the subtle warning signs in the first act (Oscar did Internet-stalk Gloria) and Sudeikis' unflinching commitment to his character's repulsive behavior. Meanwhile, Hathaway's Gloria goes from selfish alcoholic to someone able to step up and save a city.
"We have this very black-and-white way of discussing each other as if we're all one thing all the time, and we're not," Hathaway said. "To me, that's why Gloria's a hero—not because she does everything right, but because when the stakes get high enough, she takes them in and she owns them."
While the film's primary focus is on these few characters, on the other side of this fictional world, in Seoul, many people are put at risk as a direct result of their boorish behavior. "I wouldn't dismiss the symbolism there," said Sudeikis. "When something life-and-death is going on all the way across the globe, we do have a tendency to get numb to it."
It's an issue the film addresses. After the monster attacks Seoul a second time, Gloria laments that it didn't attack a different city. Once disaster strikes one place again and again, after a while, other people tend to stop caring.
"I find this moment to be particularly aggressive in terms of our humanity being under attack, in terms of how easy it would be to become desensitized just by checking out mentally, by taking a pill to quiet everything down," said Hathaway. "If we can actually stay present with each other emotionally, spiritually, compassionately, we will become so much brighter. It's just really, really hard."
There was also the matter of the physical abuse that Gloria suffers at at the hands of Oscar. Those scenes become even more unsettling when you watch them knowing that Hathaway was pregnant with her son during filming. "We had a third scene partner in Anne's belly, so there was already a gingerness that was expected… not that it wouldn't be expected beforehand," said Sudeikis. "It didn't take on the same tension I've felt doing love scenes. That usually feels more awkward."
He asked Hathaway, who's done her fair share of sex scenes (Love and Other Drugs comes to mind), if she agreed. "The worst thing about doing a love scene is not even doing it," she said. "It's then being asked about it by middle-aged men in television interviews."
_Watch the video_s trending on W: