Anne Hathaway Shares First Photo of Her Son
Anne Hathaway gave birth almost a year ago, but her son hasn't made his public debut. Until now.
---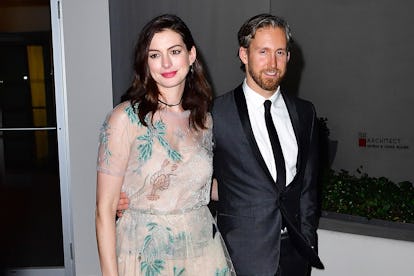 James Devaney/GC Images/Getty Images
Anne Hathaway welcomed her first child, Jonathan Rosebanks Shulman, close to a year ago. Since then, Hathaway and husband Adam Shulman have kept the baby off social media and out of public view. They changed that policy on Thursday, though, when Hathaway introduced little "JRS" to the world with a cute photo on Instagram.
Hathaway shared the picture after spending Wednesday—International Women's Day—at the United Nations, delivering a speech about the importance of paid parental leave. The appearance was clearly a hit with the whole family, as the debut photo of Jonathan shows the infant intently watching Hathaway deliver her speech. The photo is captioned: "JRS watching Mommy give her speech at the UN yesterday."
It's no surprise that Hathaway wanted her son to see the speech, even if he's a little too young to understand the complexities at play. In it, she talked about how having Jonathan changed her perspective on parental leave. She said, "I remember I experienced a shift in consciousness that gave me the ability to maintain my love of career and also cherish something else, someone else, so much, much more. Like so many parents, I wondered how I was going to balance my work with my new role as parent, and, in that moment, I remember that the statistic for the U.S.'s policy for maternity leave flashed through my mind. American women are currently entitled to 12 weeks of unpaid leave. American men are entitled to nothing."
"That information landed differently for me when one week after my son's birth, I could barely walk. That information landed differently when I was getting to know a human who was completely dependent on my husband and I for everything, when I was dependent on my husband for most things, and when we were relearning everything we thought we knew about our family and our relationship," she continued.
Jonathan Rosebanks Shulman turns one in just a couple of weeks.
Hathaway, meanwhile, will return to cinemas soon in Colossal, a sort of Trainwreck meets train-wrecking monster sci-fi comedy.
Watch W's Most Popular Videos: