Anne Hathaway Made a Secret Quarantine Movie With an Uninventive Title
Anne Hathaway made a movie about lockdown called "Locked Down" during the lockdown and it's out on January 14 on HBO Max. Say that five times fast.
---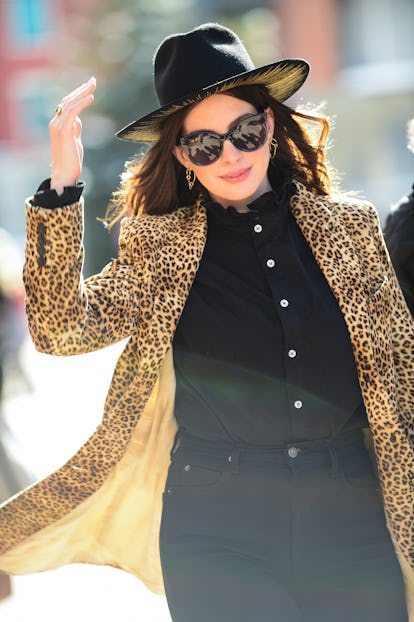 Photo courtesy of Getty Images.
Remember at the "beginning" of quarantine when a bunch of people online tried to make other people feel bad for not being productive during an unprecedented global crisis by slipping "William Shakespeare wrote King Lear in quarantine" into conversation here and there? Well, Anne Hathaway (not Shakespeare's wife, obviously the other one) didn't exactly write her King Lear in 2020, but she did make an entire movie about the Covid-19 pandemic while in lockdown and it is literally called Locked Down.
In Locked Down, Hathaway is joined by Chiwetel Ejiofor. She plays Linda and he plays Paxton, and together they form a couple verging on separation. Of course, their plans to go their own ways are stymied when news of the coronavirus pandemic makes its way to the United States, and Linda and Paxton end up spending lockdown together rather than apart.
According to Hathaway, her character uses the lockdown period to let loose. "This film is partially about how the chaos of lockdown allows her to release that tension, let go of whatever BS was getting her through the day and how she gets all the way honest about what authenticity and freedom mean to her," she told People about Locked Down. "She is messy and a little nuts and I liked that."
Locked Down is certainly not the first movie to be made in quarantine, nor is it the first movie to be made in quarantine about quarantine—Zendaya filmed Malcolm & Marie in the spring, and KJ Apa released a Michael Bay-produced film called Songbird (to scathing reviews) in the fall. But at least we have it on the record that the production process was safe for the actors involved. The actress revealed to People that while actors took masks off to film scenes, the crew responsibly kept theirs on, even in hot cramped rooms. "The sheer act of making it, of doing something so collaborative and audacious made us all very focused and open—and strangely free," she said.
From the trailer, it appears as if the movie is not just a romantic dramedy about a couple on the brink of breaking up going into lockdown together, but in fact is also about a potential heist plan to steal a diamond from Harrods in London. It's certainly not the first heist film for Hathaway (she was, some would say, the saving grace of Ocean's 8), but Locked Down is likely the first time a movie about a heist taking place during a pandemic will hit streaming services.
Locked Down, the movie about lockdown that was made during lockdown, will be released on HBO Max on January 14.
Related: Anne Hathaway Was Taught How To Juul For Modern Love