More Than Anyone Else, Anne Helen Petersen Knows You're Burnt Out
Following the success of "Can't Even: How Millennials Became the Burnout Generation," which released earlier this year, the writer is working on a new book about working from home.
---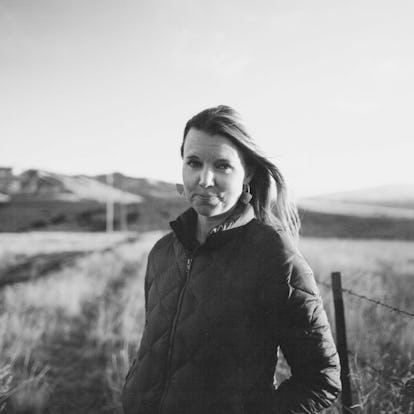 "I bought a stack of new fiction books on Saturday and started reading one last night and got 50 pages in," writer Anne Helen Petersen tells me over the phone. "That is always my gauge for my level of burnout: Can I read fiction right now?"
Petersen has thought a lot about burnout—particularly as it applies to her generation, Millennials. Her viral 2019 BuzzFeed article "How Millennials Became The Burnout Generation" articulated and validated frustrations that many feel, and it named the "errand paralysis," endless "optimization," and social media performance that defines our lives and underscores our exhaustion. It's been read by seven million people. "We're deeply in debt," Petersen wrote of Millennials in the piece. "Working more hours and more jobs for less pay and less security, struggling to achieve the same standards of living as our parents, operating in psychological and physical precariousness, all while being told that if we just work harder, meritocracy will prevail, and we'll begin thriving."
Petersen's new book Can't Even: How Millennials Became The Burnout Generation is an expansion on what she laid bare in that piece, taking the springboard of the article's virality and using it to deep-dive into how a generation wound up in such unforgiving waters. "I think Millennial identity, in a lot of ways, is a recognition of precarity," Petersen says. "Precarity" is a word the writer uses a lot with respect to the Millennial condition and is precisely the word to describe the feeling I've long had about my own life, but just couldn't quite put my finger on. Petersen is excellent at that: naming what many feel but haven't yet put into words.
In Can't Even, her third book, she examines how that precarity came to be: how our generation was raised, how our parents were raised before us, how the American workplace has changed and not changed through the decades, and how all of that created a perfect storm for Millennials, making burnout not a "temporary affliction" but our "contemporary condition." She uses interviews with Millennials from all walks of American life to create a patchwork of the experience and systemic problems that haunt the generation. "Millennials live with the reality that we're going to work forever, die before we pay off our student loans, potentially bankrupt our children with our care, or get wiped out in a global apocalypse," Petersen writes in the book. "That might sound like hyperbole—but that's the new normal, and the weight of living amidst that sort of emotional, physical, and financial precarity is staggering, especially when so many of the societal institutions that have previously provided guidance and stability, from the church to democracy, seem to be failing us." She also unpacks how we've been raised to believe we can win this game, achieve the American Dream if we just work a little harder. But, as she writes, "No amount of hustle or sleeplessness can permanently bend a broken system to your benefit."
Petersen began to really consider her own relationship to burnout when she moved from Brooklyn to Montana in 2017. At the time, she was a staff writer at BuzzFeed and had traveled to Montana to report a story. "I grew up in Idaho so it was not a surprise to me that I love Montana," she tells me, recalling that even though she was working hard on that trip it was still enjoyable. But when she returned to New York, the difficulty of day-to-day life seemed glaring. "I just felt like there could be something different. There could be a different way," she says. So she convinced BuzzFeed to let her work remotely, got her partner on board with the Montana move, and headed west. "When we got out there I had these ideas of 'Oh, I won't be commuting, I'll have all this extra time,' and then we both just worked more," Petersen remembers. "Having that realization of, 'We have this incredible place where we're living and we're meeting people who work far less than us and are far happier.'" When her editor suggested she might be burnt out, she leaned into her academic training—Petersen has a PhD in media studies—and began researching and working on what would become the article.
Because Petersen writes so astutely about the pervasive problems of burnout, I could feel myself looking to her for answers on how to solve those problems too, deep and societal as they may be. "The thing I try to emphasize is it's different for everyone," Petersen says. "The valuable thing is being able to identify what's going on in your life. To be able to step away from it and see it for what it is. Each person needs to figure out how they grapple with that individually."
Though her book was written prior to the pandemic, in the opening author's note Petersen writes about how the ramifications of Covid-19 only deepen her arguments. "Work was shitty and precarious before; now it's more shitty and precarious. Parenting felt exhausting and impossible; now it's more exhausting and impossible. Same for the feeling that work never ends, that the news cycle suffocates our inner lives, and that we're too tired to access anything resembling true leisure or rest. The fallout of the next few years won't change Millennials' relationship to burnout and the precarity that fuels it. If anything, it will become even more ingrained in our generational identity."
In an unexpected way, the pandemic also provides a space for recalibration. In her newsletter Culture Study, which she now runs full-time since leaving BuzzFeed earlier this year, Petersen recently wrote about this moment as "a plastic hour," a period of time when things can be changed not just incrementally but on a more expansive scale. "This is the time when people can be amenable to big changes," Petersen says on the phone, noting that we should take advantage of this moment to dream up the changes we want to see in our jobs, our country, our families, and our communities. "In the past because of the way that our government works and because of the way that we like to think about change in our own lives, there's a difficulty in thinking big," Petersen says. But as she writes in Can't Even, at this point "We have so little left to lose."
Petersen is already at work on her next project, a book about working from home that she's writing with her partner (it's worth noting that they both work from home). She recently wrote a piece in her newsletter about WFH during the pandemic, "You're not working from home. You are laboring in confinement and under duress. You're stealing a few minutes in the bathroom away from your kids to 'check in' with your boss. You're frantically tapping out an email while trying to make lunch and run a distance-learning home school. You're stuck alone in a cramped apartment for weeks, unable to see friends or family—work becomes life and life becomes work." She adds, "Here's the nightmare scenario: This could be the future."
Petersen seems focused on holding up a mirror to the lives American Millennials are living. The reflection she casts back is not the filtered one we are used to putting out into the world, but rather it highlights the cracks, the exhaustion, what's broken. The only way to make anything better, Petersen seems to prove to us, is to be unflinchingly honest about what we see.