Anohni's New Song Can't Be Bought With Money, Only With Emotion
Anohni is releasing a new EP, but you can only collect the last song by sharing a bit of emotional vulnerability with the artist.
---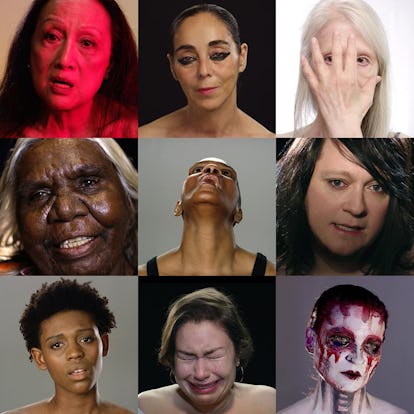 Paradise EP cover via Rought Trade and Secretly Canadian
Anohni has released some of the most emotionally riveting and personally vulnerable music of the past twelve years. If you haven't cried alone in your bedroom at some point to her band Antony and the Johnson's "Hope There's Someone," there's a good chance that you're just not living your emotional life.
Over her career Anohni has giving her fans what the internet terms "the feels" in generous supply, and now the singer would like some of those "feels" back. In what appears to be a musical first, Anohni has a new song for sale but you can't buy it with conventional monetary currency. The only way you can purchase the song is by sharing a bit of your vulnerability with the singer herself. Of course, what else would you expect from someone who is one of Marina Abramovic's closest friends and collaborators?
The sort of iTunes-alternative-meets-performance-art idea is part of the release of Anohni's latest EP Paradise. The collection includes seven songs, but only six are available for traditional purchase. The seventh, entitled "I Never Stopped Loving You," can only be collected through other means.
"If you have listened to my music over the years, you know that I have publicly given something of my heart," wrote the singer on Facebook. "If you would like the final song from Paradise, email me at anohni@rebismusic.com and share with me in a sentence or two what you care most about, or your hopes for the future. Send this to me instead of the dollar you used to send me in the olden days. The price for this song is a gesture of anonymous vulnerability. That may be too expensive for some of you, and that's okay."
Though, the singer doesn't want this to be about her. She really wants to read something from deep inside you.
"I want to hear your collective mind. I want to see that river of thoughts. Please don't write about how my music affects you; if you mention me or my work I will not send the track," she continued. "Please keep the focus on yourself. Take a risk and break out of established ways of doing and perceiving. It is what you have expected of me as an artist, and just for a moment, it is what I ask of you."
In the wake of the digital upheaval of traditional music sales, several artists have experimented with alternative sales models. Radiohead famously instituted a "pay-what-you-want" model with the release of their 2007 album In Rainbows. Others have experimented by bundling their music with merch or experiences. Mogwai sold a song via music box, Jack White released a single in a helium balloon, and Taylor Swift once sold an album via a Papa John's pizza box.
"Paradise," the title track to the upcoming EP:
Anohni however is the first to offer music for sale via emotion.
Perhaps there is some sort of think-piece in the idea of "emotion being the new currency." See the oversharing of digital influencers, the web traffic-bait of personal essays, and, well, the base emotional manipulation that propelled Donald Trump to the White House despite his lack of a traditional fundraising apparatus, for evidence.
But Anohni's move seems to be in keeping with her overall creative evolution. The Paradise EP follows in the footsteps of her album Hoplessness, her first solo album under the name Anohni (she had perviously used her birth name professionally, though her friends had long called her Anohni) and her most political album yet. Hers is politic that is increasingly wary of the capitalist and patriarchal status quo. It seems very Anohni indeed to promote music as emotion that should be shared instead of merely a product to be sold.
Paradise is set for release on Friday, March 17.
Photos: Anohni, Anohni, Anohni: Watch Her New Video Starring Naomi Campbell
Photo by Nabil from Anohni's "Drone Bomb Me" video. Directed by Nabil. Art Directed by Riccardo Tisci. Courtesy of Apple Music
Photo by Nabil from Anohni's "Drone Bomb Me" video. Directed by Nabil. Art Directed by Riccardo Tisci. Courtesy of Apple Music
The cover of ANOHNI's HOPELESSNESS, out May 6 on Secretly Canadian.
The Curator is Present The Artist is Absent: