Another One Bites the Dust: Peter Dundas Out at Roberto Cavalli
His exit seems less a case of a designer failing to deliver as it does one being caught up in a major corporate sea change.
---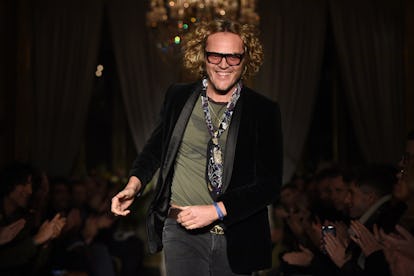 WireImage
Creative director Peter Dundas has parted ways with Roberto Cavalli after just 19 months at the helm. This is a surprising turn considering Dundas's penchant for eye-popping prints and tendency towards maximalism, staying true to the DNA of the house about as well as anyone could expect. One doesn't walk into a Cavalli boutique expecting nods towards subtlety, and Dundas didn't disappoint, especially considering his career launching pad was previously serving as the head designer under Cavalli himself from 2002 until 2005.
Though, it seems this may be a bit more than just another round in the increasingly whirlwind and increasingly fickle game of designer musical chairs. Dundas's departure is just the main bullet point of major changes at Cavalli. It's a story that includes boardroom shakeups, corporate restructuring, and boutique closures as well.
"On behalf of Roberto Cavalli and our shareholders, we thank Peter Dundas for his contribution to the brand, and we wish him well for his future," chief executive Gian Giacomo Ferraris said in a statement. "As Roberto Cavalli goes through a period of transformation, the design team will carry on and the appointment of a new creative director will be made in due course."
Ferraris himself had only taken the reigns of the business side in July; he had previously served as chief executive at Versace. During his tenure there, Versace, a family-controlled company, sold a 20 percent stake to investment group Blackstone. Likewise, Cavalli, once a completely family-controlled company, has also recently sold a major stake to investment group Clessidra Capital Partners. That transfer occurred just months after Dundas was named Creative Director.
[According to WWD](http://wwd.com/fashion-news/designer-luxury/peter-dundas-exits-roberto-cavalli-10673755/), Dundas is not the only employee of Cavalli to be out of a job. Two hundred members of the brand's 672-strong workforce will be let go. All corporate and design offices will exit Milan and be consolidated in Osmannoro, Italy. Cavalli stores are expected to be either shuttered or relocated.
At the heart of many designer exits are business concerns, but this seems less a case of a designer failing to deliver as it does one being caught up in a major corporate sea change. In a statement, Dundas doesn't seem to hold a grudge and especially gives thanks to the fellow creatives who worked with him.
"I want to thank Roberto Cavalli and the Group for this valuable experience and I wish them the best in their future endeavors," said Dundas. "I am especially grateful to the ateliers and the teams who participated in this adventure."
Dundas, a Norwegian who moved to Indiana with his family as a teenager, has been in similar situations and landed on his feet before. He originally left the Cavalli fold in 2005 to take over Emanuel Ungaro. He exited the brand in 2007 but soon found himself at the helm of Emilio Pucci; he held that position until he was poached by Cavalli. Along the way, he's moonlighted as a wedding dress designer for the likes of Ciara.
Even that resume indicates he has a penchant for prints and Italian luxury. At Cavalli, he tended towards '70s rocker meets Cavalli standards, though he could pull off more restrained classics as well.
With designers exits seemingly comings in droves after the end of every season, he might only need to wait a little while until a new position opens up elsewhere.