Art Insider: Anselm Reyle
The German firebrand shakes up the House of Dior.
---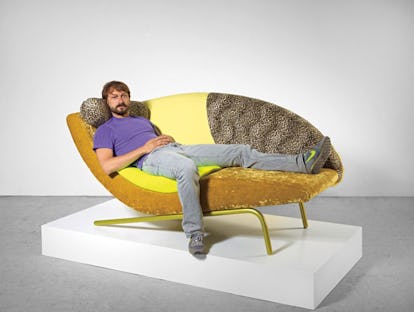 Berlin artist Anselm Reyle, who was inspired early in his career by the agitprop of eighties punk graphics, understands the power of provocation. His best work—collected by art and fashion heavyweights like Charles Saatchi and Peter Marino—is knowingly over-the-top, existing somewhere between über kitsch and the sublime: hard-edge striped canvases made in glossy auto paint and glitter; monumental assemblages of silver foil, pulsating LEDs, and flashy fluorescent drips. "I like the idea of bringing stereotypical and sometimes banal forms into new contexts," says Reyle, who lately has been producing neon paint-by-number pieces of ponies and kittens. "I am interested in irritating the viewer's eye."
Irritating or not, his art certainly caught the attention of Delphine Arnault, Dior's deputy general manager, who, after seeing some of his pieces at the Almine Rech Gallery in Paris, tapped Reyle to collaborate with the fashion house. "I found in his work a genuine modernity that plays on materials and colors with a freedom of spirit that echoes that of Dior," explains Arnault, who gave the artist carte blanche to create a collection of accessories. The result is a full range of classic Dior products that have been given a Reylean one-two punch: ballet ­slippers, silk scarves, and shopping totes ­reimagined in an eye-popping camo print; key fobs with colorful acrylic charms; and Miss Dior bags reinterpreted in metallic leathers with ultrabright topstitching. All of which debuts in the Dior pop-up shop at this month's Art Basel Miami Beach.
Anselm Reyle for Dior Camouflage Bag

Photographer: Max Vadukul
Reyle lying on one of his sofa pieces presented at his 2011 "Little Cody" exhibition in Berlin

Photographer: Max Vadukul
Weideglück/Contended Grazing, 2011

Photographer: Max Vadukul
A yellow metallic Lady Dior Bag amid Reyle's inventory of paints

Photographer: Max Vadukul
Bag: courtesy of Dior; Portrait: Matthias Kolb; Weidegluck/Contended Grazing, 2011, And Untitled, 2011: courtesy of Contemporary Fine Arts in Berlin; Yellow Bag: Sophie Carre